Prep macro friendly foods the whole family will love!
What are macro friendly foods?
All foods are made of macronutrients or macros for short. Any food that makes it's easy to identify and count macros is "a macro friendly food" in my book. But I've also seen it used as a way to describe foods that give you the most volume of food – which if you're used to limiting calories and portions- is a very welcomed thing! There are a lot of macro friendly foods and we'll go into all the details below.
The great thing about macro friendly foods is – they are minimally processed and family friendly. As a mom of two, there is nothing worse than having to make a separate meal for me and another for the kids. When I prepare meals like those described below, everyone is happy because the flavors are familiar, they're easy to deconstruct if you have picky kids and you know exactly what your macros are for the meal!
Macros 101
There are three types of macros: Protein, Carbohydrates and Fat. Each one has a different job. They help us build new tissue like muscles, give our brains energy and help regulate our hormones!
Don't confuse tracking macros or macro friendly foods with low calorie, or low fat diets. You can track macros as part of any diet plan, whether you're gluten free, vegan, vegetarian or aiming to gain weight, gain muscle or lose body fat. Your macro goals just need to be set correctly – and by a professional!
An easy dinner that is macro friendly could look like roasted sweet potatoes, grilled chicken breast and broccoli drizzled with olive oil. A meal like this includes all three macros (is a complete meal!) and it's easy to see where the g protein, g fat and g carbohydrates are coming from! Chicken = protein, sweet potato = carbs and olive oil = fats!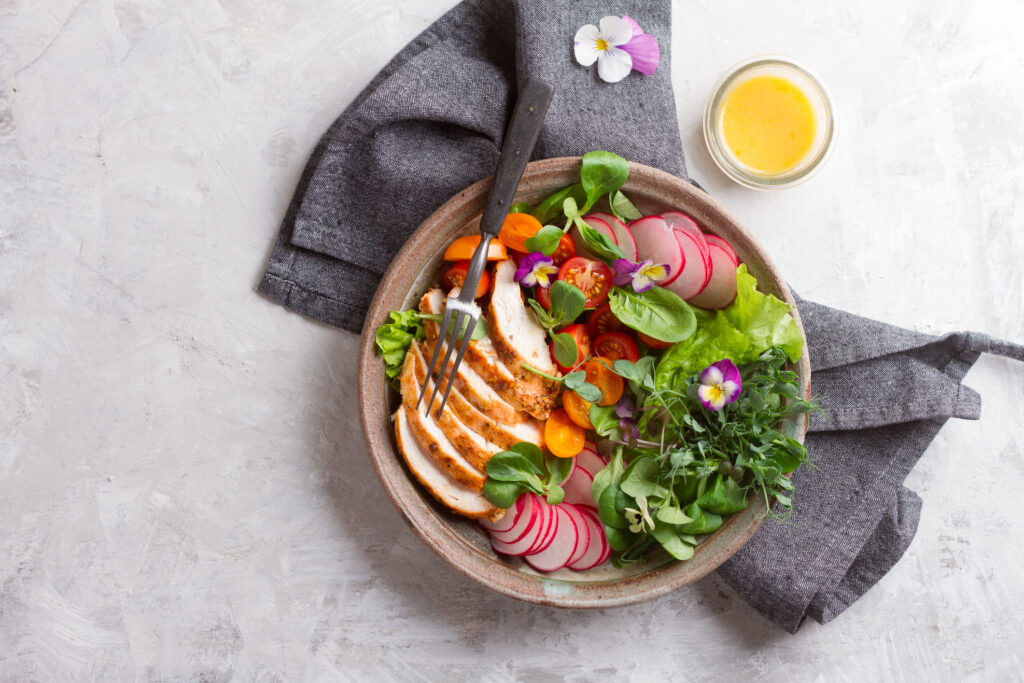 Macro friendly sources of lean protein
If your goal is to lose fat, your goal should be to get enough protein at each meal. I recommend having 3-4 ounces of protein at each meal or snack to keep yourself feeling full.
Chicken breast
Greek yogurt
Eggs and egg whites
Lean ground turkey
Lean ground chicken
Protein shakes (check labels)
black beans
Protein bars (check labels)
As a rule of thumb, one ounce of lean protein = 7 g protein. Protein provides 4 calories per gram.
Macro friendly sources of higher fat protein
Chicken legs
Ground beef
Flank steak
Filet mignon
Chicken thighs
Salmon
Low fat or fat free cottage cheese
Unsweetened Greek yogurt
High protein snacks include: beef jerky, dried turkey sticks, edamame, hard boiled eggs, deli meats and protein shakes.
Macro friendly source of carbohydrate
Sweet potato
White potato
Brown rice
White rice
Quinoa
Bananas
Apples
Most fruit in general
Carbohydrates provide 4 calories per gram.
Wheat products such as bread, tortillas, english muffins, pancakes and French toast are sources of carbohydrate, however they are also sources of fat and potentially sugar which make tracking their macros tricky. One bread that I do like is Ezekiel Bread. It's minimally processed made from sprouted wheat and has higher protein than other breads. If you want to include breads in your diet choose whole grain options where the first ingredient is whole wheat and sugar is not in the first three ingredients.
Macro friendly sources of fat
Not all fats are created equally. Some fats like those found in fatty fish, olives and avocados are healthy fats. Research has shown us that these fats promote heart health and desirable cholesterol levels. Fats that are solid at room temperature, such as those found in red meat, butter, even full fat coconut milk are sources of saturated fat which should be limited or avoided especially if you've been diagnosed or are at risk for heart disease.
Olive oil
Avocado
Shaved coconut
Macadamia nuts
Nut butter
Salmon
Fat provides the body with 9 calories per gram.
Tips for shopping at the grocery store
The simplest way to ensure you have macro friendly foods in your cart is to shop the perimeter! But trust me, there are a lot of amazing macro friendly foods in the center aisles of the store too.
In the produce aisle, everything is fair game. Stock up on fruits and veggies for your meals and snacks. I like to go into the week with at least three vegetable options in the fridge. My go-to's are broccoli, spinach and bell peppers but I may get more depending on what looks fresh and how many nights I will be cooking! Macro friendly produce items: broccoli, spinach, bell peppers, potatoes, tomatoes, onions, leafy greens, endive, salad mixes, garlic, melons, bananas, apples, peaches, pineapples, berries and the list goes on and on.
Moving onto the deli. I like to get some deli meats for quick lunches that are high in protein. Sandwiches don't take much time to put together and they're a great way to create a macro balanced meal. (think bread, meat, veggies, and mayo or oil)
In the meat and seafood department, you can go with either fresh or frozen protein options. I usually get 3 protein options for the week. This gives me a chance to meal plan healthier options that will fit in my macros, and in case I don't get to cook it all, I can just freeze what I don't use for later. Chicken breast is always a good option to pick up for a quick baked or macro friendly grilled chicken. Lean ground beef is good for meal prep, taco Tuesday or meat loaf. Shrimp are a superfast and delicious way to be sure you get all the grams of protein you need for your goals.
In the dairy section is where you'll stock up on eggs, Greek yogurt and skim milk. Unsweetened almond, coconut or cashew milks are other lower macro alternatives to have on hand for delicious recipes and smoothies.
When you turn the corner to the frozen aisles the macro friendly foods will be generally less processed without added sauces. (Though you can scan barcodes and manually add macro info from the nutrition facts panel to most macro calculators). My favorite frozen buys include spinach, kale, collards, broccoli, cauliflower rice, peas, chopped onions, and vegetable medley – I recommend the unsauced versions so you can add freely to recipes and track macros as needed. Sauced versions like those from Green Giant do make for convenient sides that the whole family will like- they have veggie tots that are a big hit with us too!
The center aisles of the grocery store are where you can get your basics for quick meals. Pick up 90 second brown rice packets, tuna fish, canned beans of all kinds and your favorite low sodium seasonings. Seasonings are a great option to change up your meal prepped protein throughout the week in a flavorful way. This is also where you'll find your oatmeal, tomato sauce, bean based pastas, whole grain cereals, jerky, trail mix, nuts, nut butters and more. You just need to read labels a bit more 🙂
Is ice cream macro friendly?
When I think of macro friendly meals, I think of all three macros. I want all three macros on my plate, at the very least two macros. Having all three macros is the perfect way to ensure that you're hitting your target numbers by the end of the day.
This doesn't mean you can't eat it, it just means that you want to log your portion accurately, and try to modify your eating the rest of the day to compensate. There are macro friendly ice creams out there (Halo Top and Arctic Zero) that are higher in protein, and even use lower fat milk and sugar substitutes but you need to ask yourself this important question. Am I eating ice cream to meet my protein goals? or am I eating it for the enjoyment of food. For me- when I am in the mood for ice cream, nothing else will do. So I account for real ice cream in my macros, even though it's high in fat and sugar. I guess that's what makes counting macros so great – you can make food choices that work for you and your food preferences!
Tips for counting macros with homemade recipes
In general, it's easier to count macros when cooking from scratch and eating whole and unprocessed foods.
Tracking macros doesn't mean you need a detailed recipe though. The key to tracking macros with recipes is to add to your tracker in the portions used OR follow the recipe exactly as written.
Then portion out according to the listed serving size. For example, if you make a crustless quiche and it serves 8, simply cut it into 8 equal portions and use the nutrition information to log your macros. If you're like me and 1 serving isn't enough, you can easily double your portions, just be sure to multiply your macros by 2 when logging them.
Weigh out ingredients using the tare function on your scale. When I'm making homemade meatballs for example – place the mixing bowl on top of the scale. Then add ingredients by weight. Hit tare after each ingredient so the scale zeroes out. My favorite part of measuring ingredients this way is that there are much fewer dished!! No need to wash measuring cups or spoons!
When cooking or combining foods during cooking, my number one tip is to use the tare feature on your scale. Not only is it accurate, but you have significantly fewer dishes to do after cooking!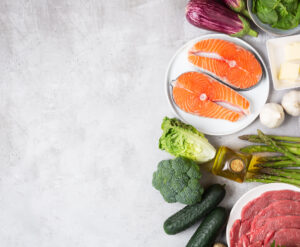 Meal prep these macro friendly foods each week
hard boiled eggs
steel cut oats
baked sweet potato
grilled veggies
grilled or baked chicken breasts
Here are some easy recipes for the whole family
Bonus! Most of these recipes are from popular supermarket chains like ShopRite and Trader Joe's that have an easy add to cart feature. Just click the recipe, select ingredients that you need for the week and send to cart!
Non-recipe recipes
These are easy ways to combine macro friendly foods into delicious meals! While the macros aren't listed, these combos are easy to add to your macro tracker – and each combo includes protein, fat and carbohydrate to be sure you're macro balanced!
Chocolate banana smoothie – 1 cup unsweetened almond milk, 1 frozen banana, 1 scoop chocolate protein powder, 1/2 cup frozen cauliflower crumbles, 1T chia seed.
Cauliflower hash brown egg cups – Spray a muffin tin and layer 1/4 cup cauliflower, 1/4 cup frozen hash brown, 1 egg, salt and pepper – bake at 350 F until set!
Black bean bowl – 3/4 cup microwaveable brown rice, 1/2 cup black beans, 2T salsa, 2T sour cream, cilantro.
Classic chicken dinner – Roasted potatoes and baked chicken breast with steamed broccoli – just log your portions accordingly!
Warm salad bowl – Start with a bed of greens, add 1 cup of warm rice, add leftover herb chicken breast and top with diced cucumber and your favorite salad dressing
Chicken cutlet or grilled chicken with sauce, mozzarella cheese and basil for all of the flavors of chicken parmesan
You can never go wrong with a big salad – just be sure to make a meal out of it and invite all the macros to the party. Add shrimp, beans or lean steak, top with corn, onion and salsa for southwest flavors that win every time.
All of these are easily added to macro tracking calculators and will start you off with generally balanced meals. Portion sizes can be increased or decreased for your needs.
Making macro-friendly recipes is easier than you think!
How do I know what my macros should be?
A great way to find out your macro goals is to talk to a registered dietitian. Everyone has different macro goals based on activity level, lifestyle and body composition goals. It's no one size fits all. And often, once macro goals are set, they will need to be reassessed and tweaked.
If you're thinking about macros as daily allowance or "limits" – try to think of them as minimums in order to reach your goals!
We all have specific nutrient and macro needs based on our health and fitness goals, and tracking macros is an effective strategy to make well balanced and complete meals. Often weight loss programs focus on calories, which shifts the emphasis away from the three macronutrients and their important functions in the the body. The good news is when you include all three macros (according to your specific needs and goals) you can expect see changes!!I
If you're new to macro counting, and want to learn more about why people do it. Check out my post about the FASTer Way to Fat Loss.
For more on family friendly meals, you may like these…