DIY Dole Whip is back with new pumpkin spice recipe!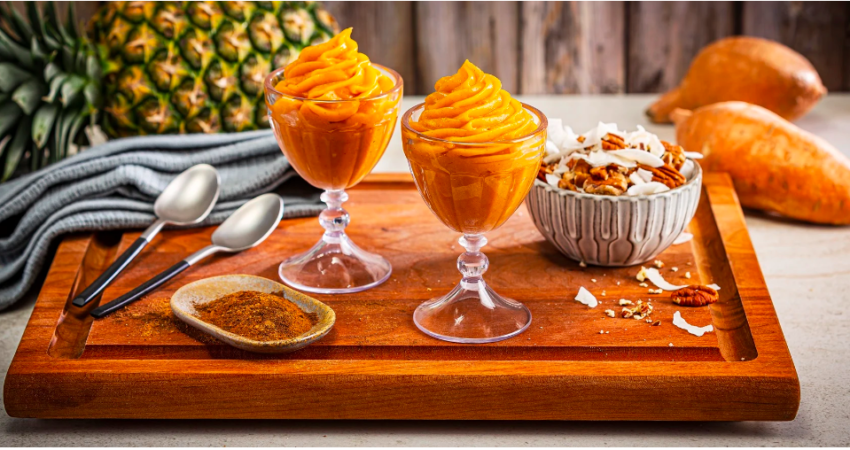 The original iconic Dole whip needs no introduction for Disney fans, but in case you're new to the scene, Dole Pineapple Whip launched as a soft serve mix in the early 1980's and was served at Disney's Magic Kingdom Park shortly after. You can find it at the Disney's Enchanted Tiki Room and at some other 3rd party retailers (if you're lucky!). But if you don't think you'll be at a Disney resort anytime soon, there is a similar version of the DIY whip available at the dole website! And now there's an amazing new pumpkin spice Dole whip to add to your favorite DIY recipes!
Did you know that I worked Walt Disney World Resort at the "Spirit of Aloha" dinner show in college? It was a great experience. I made relationships friends and mentors that I still keep in touch with today – and it all started at the Polynesian resort! Truly, what could be better than being able to go into Disney's theme parks, being able to see Minnie Mouse and try all of the parks incredible food offerings whenever I wanted!? It was a foodie dream.
And as a full time dietitian for Dole Food Company, I know the love for the classic Dole whip runs deep! I've seen everything from Dole whip smoothies and popsicles to raspberry and orange flavored Dole whips too! I mean, Disney even created a national Dole Whip Day which is celebrated every August. In developing the original DIY recipe, it was important to keep it's smooth like soft serve ice cream and maintain a slightly sweet and tropical flavor that makes it a the perfect anytime treat. Dole and Disney followers just love their Dole whip, and they love this DIY frozen treat. All of these are vegan, or can easily be modified to be vegan dole whip!
In honor of the fall season, Dole developed a Pumpkin Spice Dole Whip recipe!
If you're a lover of all things pumpkin, then this is a a delicious treat that kids will be happy to eat, and you'll be happy that it fits in your macros too! I mean, you're probably reading this with a skinny pumpkin spice latte in hand right now right? So forget the candy corn and add the ingredients for this iconic sweet treat to your shopping list! Hello pumpkin-spice season!!!
This seasonal flavor combines tropical fruit flavors of the islands, with warm flavor of sweet potato and pumpkin spice. When it's served cold and topped with coconut chips it truly makes a stunningly special fall treat.
Ingredients you need for Pumpkin Spice Dole Whip
sweet potato
pineapple, frozen
maple syrup
unsweetened refrigerated coconut milk
pumpkin pie spice
pecans and/or coconut chips for garnish (optional)
Jump to Recipe
You may think that sweet potato is an unusual ingredient, but after making this recipe, I can attest, that it provides a great soft serve texture. It's not a weird pumpkin-pineapple mash-up. Trust me!!
It's actually very convenient because sweet potatoes are an easy household staple that don't require special conditions to be stored. Just keep them in a cool dry place and they're basically ready for you, when you want to cook them! For this recipe you can prepare as suggested, or you could even use plain left over sweet potato mash. And if you don't have sweet potatoes, try using a pumpkin puree instead!
If you buy a whole pineapple, core it, chop into pieces and freeze right away. If you're using a vitamix you can also include the core as part of the recipe. It'll be able to blend it up without an issue. As a short cut, you can purchase pre cut pineapple or even buy frozen pineapple.
I do recommend the maple syrup in this recipe. I usually try to eliminate all added sugars, but the small amount in this recipe goes a long way to bring out the natural flavor of the pineapple and sweet potato.
When choosing a coconut milk, you could use a version that has more fat. The recipe will work if you use a full fat coconut milk as well. We just liked the addition of subtle coconut flavor without the saturated fat.
Tools you need to make this pumpkin spice Dole whip at home
High powered blender like a Vitamix or a food processor. I would not recommend making this in a standard blender because the fibers of the frozen pineapple may make for a chunky whip.
Chefs knife or pineapple corer! I'm all about fewer kitchen gadgets, but I do think a pineapple corer is a great investment if you love fresh pineapple. They're not expensive and you can have your pineapple on the table in under 2 minutes!
As a dietitian I love this recipe because…
The main ingredients are pineapple and sweet potato which makes reaching your fruit and vegetable goals much easier!
There is limited added sugars which could be eliminated or a sugar substitute could be used if you wanted to.
This is a sweet treat that I would serve to my family every day.
It's a great vegan and gluten free option!!
Let me know if you like this fall inspired or the pineapple version of dole whip soft serve treat better!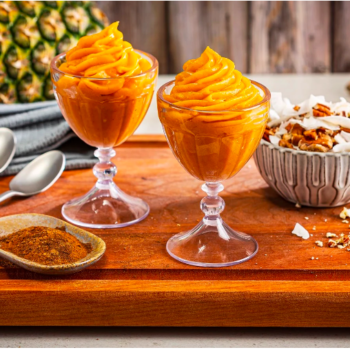 Pumpkin Spice Sweet Potato Dole Whip
This is a fall inspired version of the classic DIY Dole Whip.
Ingredients
1

cup

peeled and chopped DOLE® Sweet Potato

1¾

cups

chopped DOLE® Pineapple

frozen

2

tablespoons

maple syrup

2

tablespoons

unsweetened refrigerated coconut milk

¾

teaspoon

gluten free pumpkin pie spice

Chopped pecans and/or coconut chips for garnish

optional
Instructions
Heat potato and 2 tablespoons water in a medium microwave-safe bowl, covered with plastic wrap with 1 edge slightly open to vent, in microwave oven 3 minutes or until very tender. Drain potato; cool completely.

Purée pineapple, syrup, milk, ½ teaspoon pumpkin pie spice and potato in a food processor on high until smooth, scraping down bowl occasionally. Makes about 2 cups.

Divide pineapple mixture into 4 bowls; sprinkle with remaining ¼ teaspoon pumpkin pie spice and top with pecans and/or coconut chips, if desired.
Notes
1/2 cup serving = Fat 0g, Carbs 22g, Fiber 2g, Protein 1g.