Simple 3 Ingredient Banana Oatmeal Cookies for the win!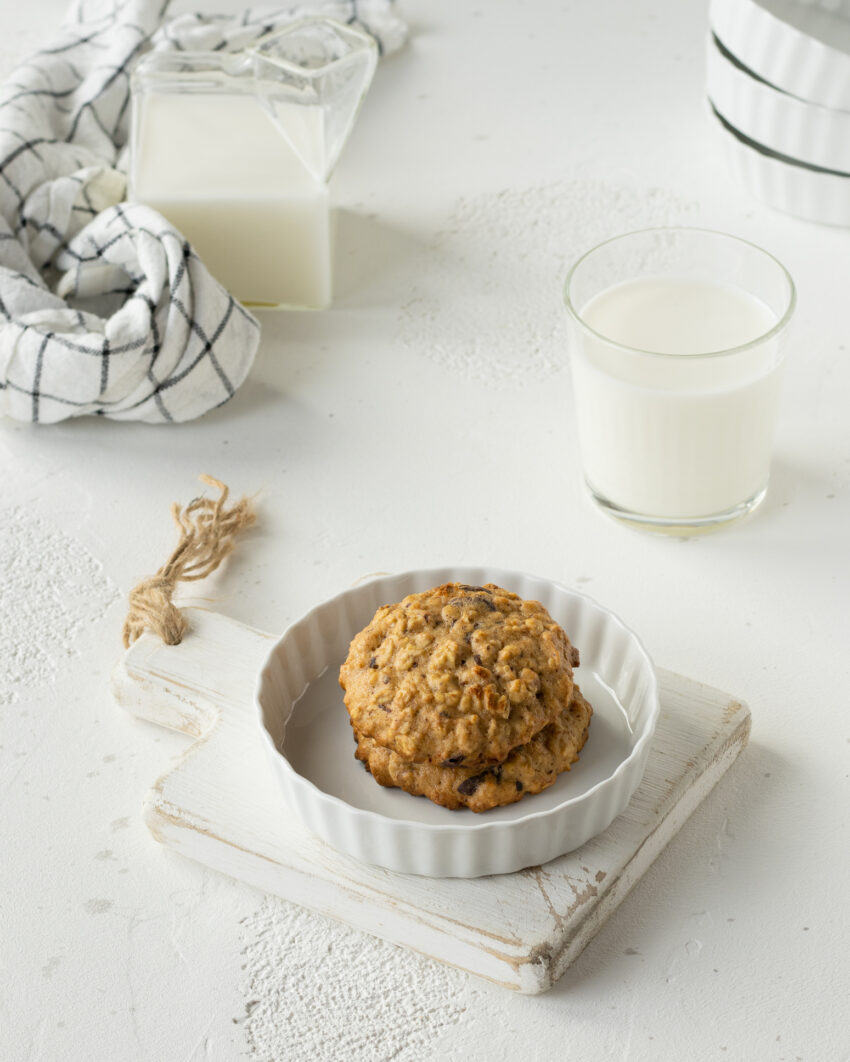 These 3 ingredient banana cookies from Dole Food Company are a #momfavorite. They're not complicated to make and they have a touch of natural sweetness that satisfies! Plus my daughter loves to get involved with making this easy recipe from start to finish – which means she's more likely to eat them! Their wholesome ingredients are a natural fit for vegan diets making them the perfect treat. I've also heard them referred to as oatmeal breakfast cookies and after trying them they are like a portable and more convenient replacement for your bowl of oatmeal!! Check out the full recipe below!
While I am a full time registered dietitian with Dole Food Company, this post is not sponsored in anyway!
Jump to Recipe
On breakfast cookies as a dietitian…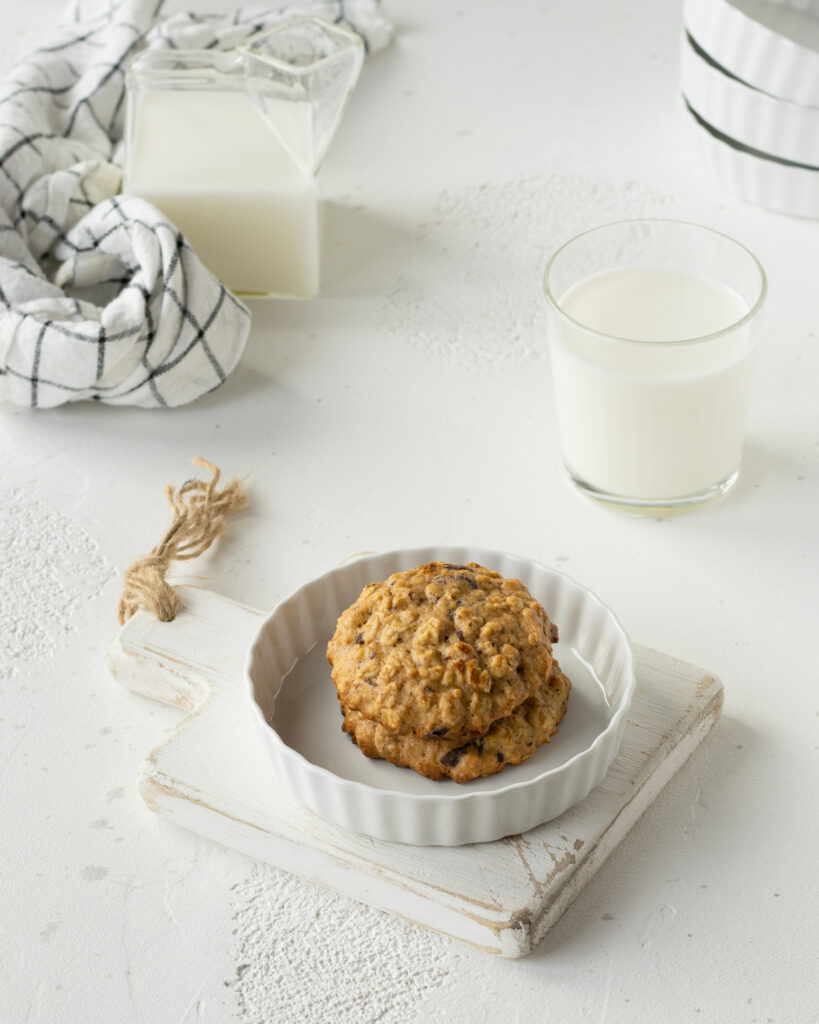 These cookies are a major win. They're packed with nutrient dense foods like rolled oats, nut butter of choice and bananas! Let's go over the nutrition benefits of each:
Rolled Oats – These complex carbohydrates are full of fiber which is known for slowing digestion. It also helps stabilize blood glucose levels avoiding spikes in blood sugar. Research consistently shows that fiber slows digestion and helps us feel fuller- for longer too! These carbs also help fuel the brain making these healthy cookies a perfect morning treat!
Nut Butter – Especially a single ingredient peanut butter is the perfect combo of fiber, protein and health promoting fats. Research suggests that those who eat peanut butter at breakfast tend to eat less for up to 12 hours afterwards! In general, when looking for peanut butter, avoid those with hydrogenated oils and added sugars.
Bananas – These household staples are a powerhouse for nutrition. Known for their potassium content, one medium banana provides 9% or 422mg which offers major heart health benefits and can help support a healthy blood pressure. Among other things, they also have a decent amount of soluble and insoluble fiber which support heart and gut health respectively!
---
Making breakfast cookies from the culinary perspective…
Like I said, these aren't complicated to make, but that's what makes them so great! All you need are three ingredients, mix them together and then bake! They're so easy to make, even a child can do it!
Do I have to used rolled oats?
There are three main types of oats. Steel cut, rolled and quick oats.
Steel cut are hearty, filling and nuttier that rolled or quick. But they will not work in this recipe. Steel cut oats are the shape of little pellets and will not absorb enough liquid from the bananas and peanut butter to make a proper batter.
Rolled are convenient and often called for in baking recipes. I like the texture rolled oats give this recipe, but quick oats will work well too!
About the bananas
Overripe bananas, either fresh are frozen are the star ingredient.
If you're going with fresh bananas – make sure they are overripe for the sweetest cookie! In general, the more blemished and ripe the better! This is the perfect recipe to keep on hand when your bananas are turning spotted. Bananas are sweetest at this stage!
Use frozen! This is totally fine to do, just caution you may have a bit more liquid than if you use room temperature bananas. So if the dough feels extra sticky add 1-2T additional tbsp oats.
What are the best type of oats?
This recipe uses rolled oats because I think they provide a great texture.
You can use quick cooking oats too! They will just absorb more liquid during the baking process.
I don't recommend substituting oat flour for the rolled oats in this recipe. The amounts would have to be tweaked for it to be a successful banana cookie recipe.
When it comes to the PEANUT BUTTER…
If you want something slightly sweeter, then use traditional peanut butter like Skippy or Jif that tend to have added sugars. Normally, I would suggest avoiding added sugars from a nut butter, but in this case the sugar makes for a great tasting three ingredient cookie!
If you're trying to limit added sugar, I recommend using an all natural peanut butter. Look for one that has simple ingredients. There are many that have a single ingredient: peanuts!
This recipe will work with any nut butter that you have on hand. You can use creamy peanut butter or chunky varieties of cashew, peanut, or seed butter. Almond butter works well too!
Chewy vs Crispy?
If you want them chewier, I suggest cooking them about 12 minutes.
I like them a bit crispier so I go 15-17 minutes.
Optional add-ins
Get creative with your add-ins! These breakfast cookies are really delicious on their own, but they're so easy to customize for your taste. There are plenty of options to experiment with. Try these versions!
Add 1/2 cup mini dark chocolate chips to the dough before portioning out, or just sprinkle a few on top of each one for a little hint of chocolate.
Add 1/2 tsp cinnamon to the dough.
Sprinkle with Monkfruit sweetener or brown sugar before baking for an added touch of sweetness.
Sprinkle with Maldon sea salt before baking to play up the sweet and savory balance.
Add 1/2 cup chopped walnuts or pepitas.
Add 1/4 cup ground flax seeds to the dough for heart healthy fats.
Helpful tips
I don't recommend adding sugar like maple syrup or honey as it will make the dough wetter. But you could add 1-2tsp if you're hoping this cookie recipe will solve your sweet tooth cravings! Just be prepared with added 1-2T rolled oats.
If you want to make a double batch, I recommend combining ingredients separately for best results.
I recommend rolling these into balls or using a small ice cream scoop to get even sized cookies. Then pat them down with your fingers to get that traditional cookie shape. The cookie dough won't spread out or flatten during the cooking process.
Bake cookies until the top is slightly golden. And they are quite forgiving even if you over bake them!
Store them in an airtight container in the fridge for 5-7 days. When we make a batch they never last more than a day or two!
Other tools you need…
parchment paper – use it to line your baking sheet for easy clean up.
large mixing bowl – for mixing
cookie sheet – for baking
I like to mix these by hand, but you could always use a food processor if you want a fairly smooth consistency.
---
As a mom…
I use this recipe as a healthy cookie or activity for my daughter to make from start to finish. She peels the bananas (if we are using fresh), and then mashes away!! I help measure the peanut butter and then we add the rolled oats together. She's able to mix everything together on her own which is a huge confidence builder!
Next, I line the baking sheet and show her how to use a small ice cream scoop to portion out equal size balls. We then pull out the mini chocolate chips for an extra special little topping as we press down the cookies to a flat disc shape together.
We made these cookies just this past weekend. It was raining and I think we had all had reached our limit for screen-time and just needed a change of scenery. I knew I had bananas that needed to be frozen or used, and we always have some kind of nut butter and oats, so we were golden. Twenty minutes later we had cookies (and breakfast for tomorrow!). It's really the perfect activity for kids. The total time commitment is very low!
Tracking Macros?
Be sure to divide batter into 12 even cookies.
Each cookie has 106 calories, 6g Fat, 10g Carbohydrate, 3g Fiber and 3g Protein.
When do I make 3 Ingredient Banana Oatmeal Cookies?
Make them for a quick breakfast (EVEN DURING THE WEEK) to enjoy at home or on the go! They're the perfect portable version of oatmeal.
They're my go-to guilt free after dinner treat especially when we top them with dark chocolate!
When the kids are looking for something sweet and I want them to have a healthy dessert.
Make them with sun butter for an allergy friendly lunch box snack.
Anytime we need a quick healthy snack.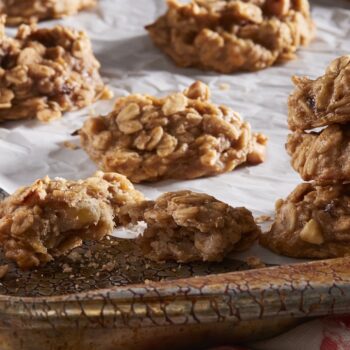 3 Ingredient Banana Oatmeal Cookies
Developed by Dole Food Company, this recipe is one of my favorites!!
Ingredients
3

each

bananas

1/3

cup

peanut butter

3/4

cup

rolled oats
Instructions
Preheat oven to 350 degrees. Line rimmed baking pan with parchment paper.

Mash bananas in a medium bowl with the back of a fork; whisk in peanut butter. Stir in oats and optional add-ins, if desired; using 2 small spoons, drop about 1 heaping tablespoon dough 2 inches apart on prepared pan.

Bake cookies 12 minutes or until lightly browned; cool on pan 5 minutes, then transfer to a wire rack to cool completely. Makes 12 cookies.

Tips: You can add mini chocolate chips, chopped fruit or nuts or even ground cinnamon to make these a bit fancier!