Weeknight Egg Roll In A Bowl
This is a classic egg roll filling that can be thrown together with a few ingredients from the grocery store, especially when you have pantry basics on hand! It's perfect for low carb eating and can easily be made into a balanced meal by adding brown rice. I love this easy recipe for quick weeknight meals when I don't feel like cooking because it has all the flavor of egg rolls, and helps me meet my macro minimums. It's a new favorite!
Jump to Recipe
Table of contents
Equipment you need
Large skillet
Wooden spoon
To-go containers if you're meal prepping
Ingredients you need
olive oil – or another neutral oil like canola or vegetable
ground pork – you can also use ground turkey, ground beef or ground chicken. 80% lean ground pork or beef are my pick for low carb days where you need higher fat to meet calorie needs.
onion – if you have a fresh onion, use it. Frozen diced onion works well here too. I wouldn't recommend using onion powder because the onion provides a nice texture.
bag of coleslaw mix – or shredded cabbage and carrot mix or even a broccoli slaw mix, no extra work because everything is perfectly shredded into small pieces.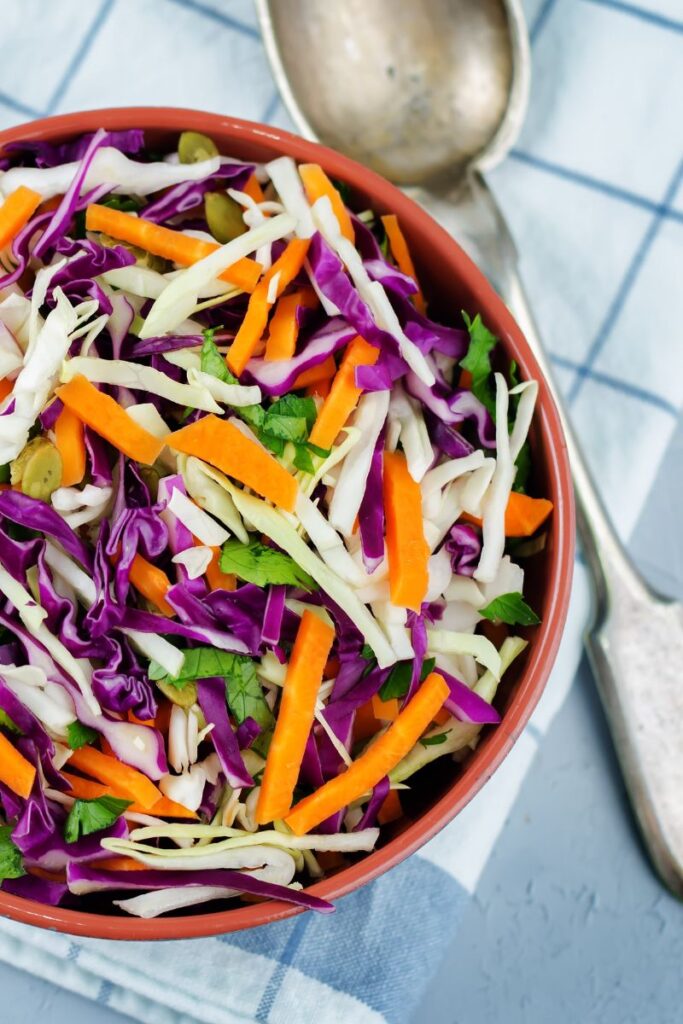 salt and pepper
garlic – fresh garlic is great but I love the Dorot frozen cubes. It's such a great shortcut product, 1 cube is 1 tsp and all the work is done for you!
ginger – fresh ginger is amazing but again, the Dorot frozen cubes are my go to. No work required and they last a while in the fridge. I can only find them at Trader Joes.
low-sodium soy sauce – I prefer low sodium but tamari or coconut aminos are good options
rice wine vinegar
sesame oil – or toasted sesame oil, whichever you have on hand. A little goes a long way to add flavor, so it's worth having in your pantry!
Optional ingredients
green onions
sesame seeds
sriracha sauce
red pepper flakes
egg roll wrapper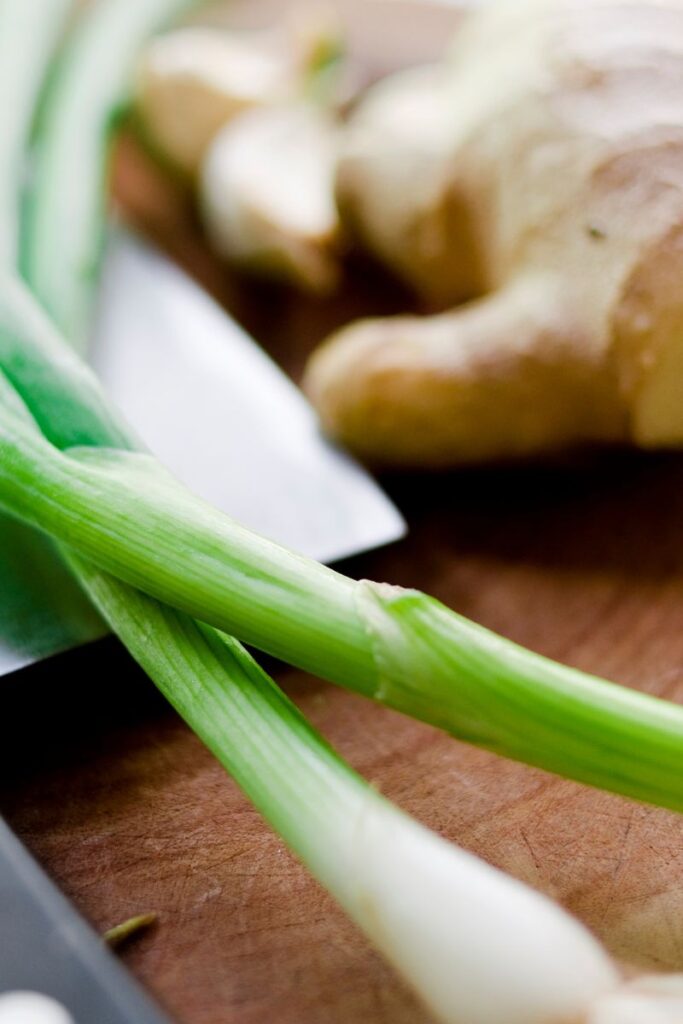 If you're a first time cook, you have to try this recipe! It's a great addition to your meal plan and can be enjoyed a bunch of different ways do you don't get bored with it! Check out these serving suggestions for a healthier alternative
Serving suggestions
Low carb
Cauliflower rice
Bean sprouts
Water chestnuts
String beans
Regular macros
Brown Rice – add extra carbs and fiber
White Rice – more traditional addition
Quinoa
Indulgent
Wonton wrappers – put this delicious filling in wrappers, spray with oil and air fry until crispy for a healthier spin on egg rolls
Wonton strips – top with wonton chips for a crunch
Spicy mayo – for drizzling
Yum yum sauce – for drizzling
Hoisin sauce – for drizzling
Meal Prep Tips
Be sure to use a large enough skillet, especially if you're going to double the recipe!
For best results use medium heat to be sure nothing burns
Divide filling equally among 4 containers
Leftover egg roll filling should be stored in an airtight container
Macros Per Serving
374 calories
29g Fat
9g Carbs
21g Protein
Be sure to check back for other low carb recipes.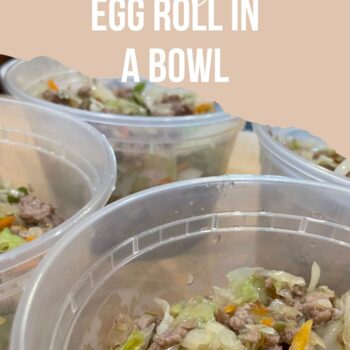 Egg Roll In A Bowl
Easy weeknight recipe that comes together with basic pantry staples and 2-3 fresh ingredients from the store!
Ingredients
1

tbsp

olive oil

1

pound

ground pork

1/2

cup

diced onion

1/2

tsp

salt

3

tsp

garlic

1

tbsp

ginger

1

bag

coleslaw mix

2

tbsp

soy sauce

1

tsp

sesame oil

1

tsp

rice vinegar

1

each

scallion

chopped
Instructions
Heat oil in large skillet.

Add ground pork and cook until no longer pink.

Add garlic, ginger, salt and pepper.

Add soy sauce and mix well.

Add coleslaw mix and cook for 3-5 minutes.

Remove from heat and add sesame oil and vinegar. Mix well.

Serve with chopped green onion if desired.