Three Cheese Baked Ziti with Meat and Hidden Mushrooms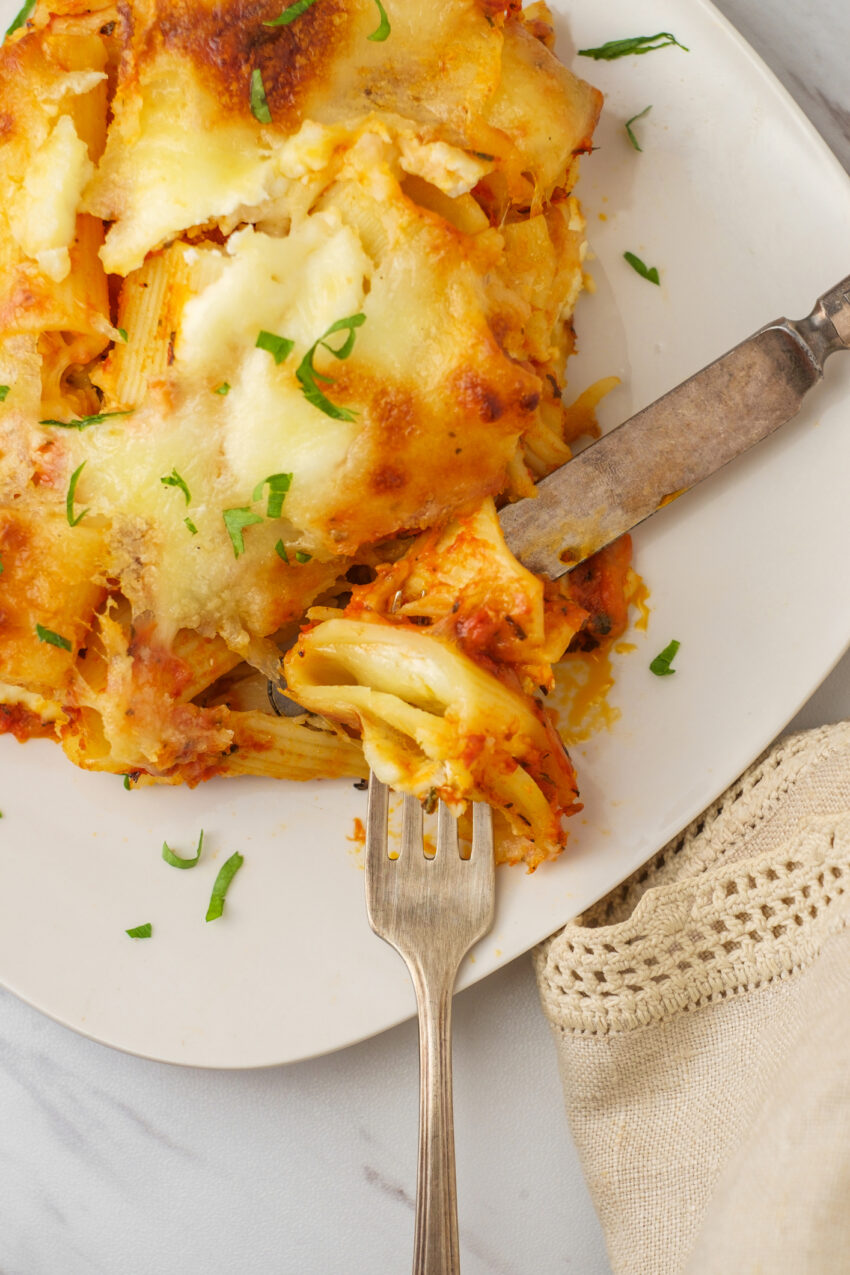 Baked ziti. It is such a classic and easy crowd pleasing dish (plus kids love it!) so it's hard to make major changes. Today I'm making it a bit healthier by using 90% lean ground beef, lower fat cheeses and adding a vegetable that won't feel out of place! Combining meat and mushrooms in this way is called "the blend" and truly, my kids and husband are none the wiser.
While this version doesn't look wildly revised, making small changes can add up to big nutrition results. With this recipe I focused on reducing fat and adding vegetables for added nutrition.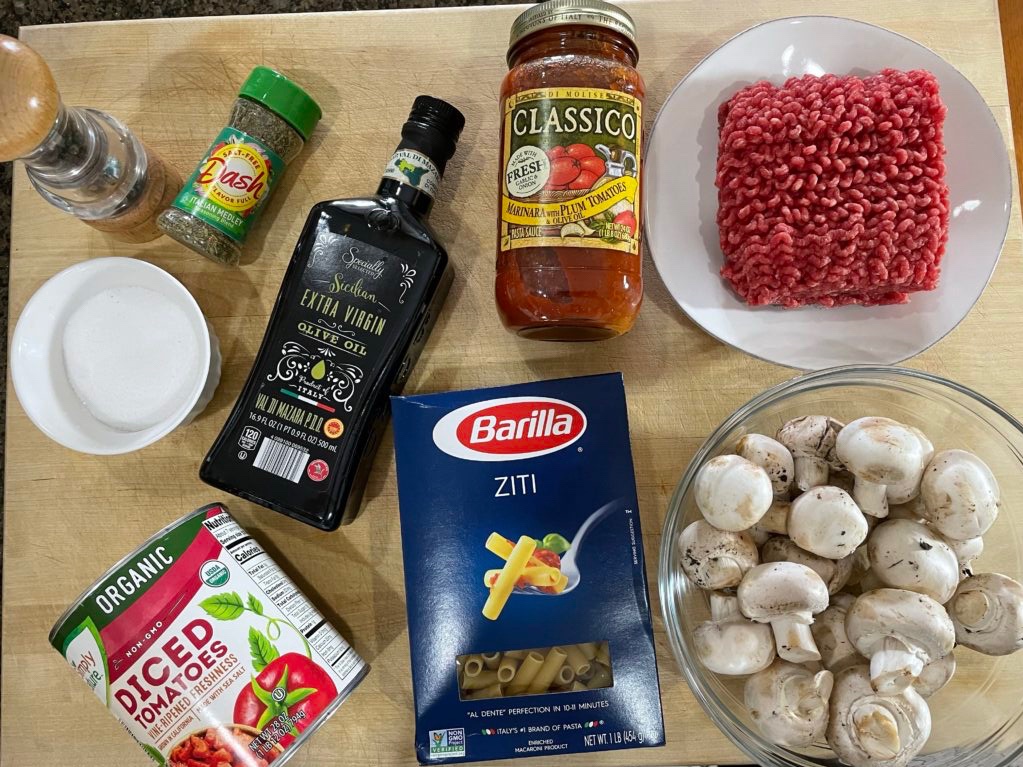 ---
The dietitian angle
Let's talk about fat first.
The small modification of 90% lean beef instead of 85% lean can go a long way. Lets compare different types of ground beef per 3oz serving:
80/20 beef has 280 calories, 22g fat – 9 saturated
85/15 beef has 240 calories, 17g fat – 7 saturated
90/10 lean beef has 200 calories 11g fat – 4.5 saturated. (actually has less calories and total fat than regular ground turkey!)
Using 90/10 beef saves us 80 calories, 11g fat and 5g saturated per serving! Saturated fats is one of those nutrients that you want to limit/avoid if possible. So I love this swap. Your supermarket may carry 93% and 97% lean ground beef so those are options to look for as well.
Beef is an excellent source of high quality protein. This means it has all of the essential amino acids that your body needs to build and repair muscle. It's also an excellent source of b12 which is important for energy and zinc which helps maintain immunity. It's also an excellent source of selenium which helps protect cells from damage. It's also a a good source of iron and choline which help the body use oxygen and support the nervous system.2
Important culinary note about cheese
For this recipe I went with part skim mozzarella and part skim ricotta instead of their full fat counterparts. Which shaves off additional calories and fat without eliminating ALL fat. From the flavor perspective, I would not recommend this recipe with fat free cheeses unless you have a specific dietary condition that would benefit from that.
Per 1oz serving
Regular Mozzarella – 80 cal, 6g fat, 6g pro
Part skim – 70 cal, 5g fat, 6g pro
Going with part skim ricotta also saves 20 calories, 3g fat per serving.
Nutrition by Addition – with the blend!
Ground meat with hidden mushrooms is the key to adding nutrition to this dish! Adding mushrooms adds volume to the meat sauce, provides texture and a lot of flavor with very few calories akd "The blend".
Mushrooms are also a leading source of selenium which is an antioxidant that helps protect the body from diseases and fortifies the immune system. 1 It basically helps activate the body's own antioxidant enzymes.
If you wanted to even take it up another notch, you could easily substitute a whole grain pasta noodle instead of regular wheat. My family likes the regular version, so that's what I used here. I hope you try my version of this classic and easy crowd pleasing dish!!
Research Links
Duyff, R. American Dietetic Association's Complete Food and Nutrition Guide. Third Addition. Wiley & Sons. NJ. 2006.


So here you'll see the before and after. With the changes made in my recipe, you will get maximum flavor while slashing fat calories. It's a big difference without sacrificing taste.
Enjoy!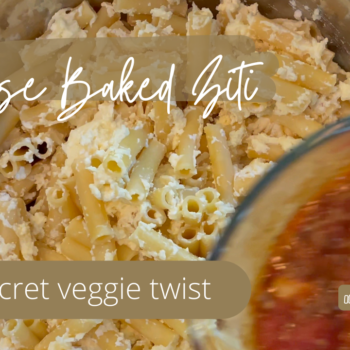 Three Cheese Baked Ziti
Crowd pleasing pasta that's full of flavor and less fat than your standard version!
Ingredients
Sauce
5

tbsp

olive oil

5

cloves

garlic

16

ounces

mushrooms

chopped

1

pound

lean ground beef

90/10

25

ounces

marinara sauce

28

ounces

chopped tomatoes

with juice

2

tbsp

italian seasoning

salt

pepper
For the Cheese Mixture
1

pound

low fat mozzarella cheese

15

oz

ricotta cheese

1/2

cup

parmesan cheese

2

tbsp

parsley

fresh

2

whole

eggs
Instructions
In large pot cook ziti to package instructionsfor al dente. Drain and set aside.

In large pot, heat olive oil, and garlic for30 seconds, until fragrant. Addmushrooms and brown until water is released and have decreased in volume byabout half. Do not salt them!

Then add ground beef, about ½ tsp salt. Cook until browned.

Add marinara and chopped tomatoes (and their juices) to the meat mixture. Add seasonings, salt and pepper to taste and simmer for 20 minutes.

In separate bowl combine ½ mozzarella cheese, all of the ricotta, parmesan, salt and pepper to taste and eggs.

Then add cooled pasta to cheese mixture and coat well. Next combine noodles with 3-4 cups meat sauce.

Finally, layer your baking dish with ½ noodle mixture, ½ the sauce and half of remaining mozzarella. Repeat one more time.

Bake covered for 45 minutes to 1 hour or until heated through. Remove foil during the last 15 minutes to brown top.
Video