A Secret Family Recipe for Creamy Balsamic Salad Dressing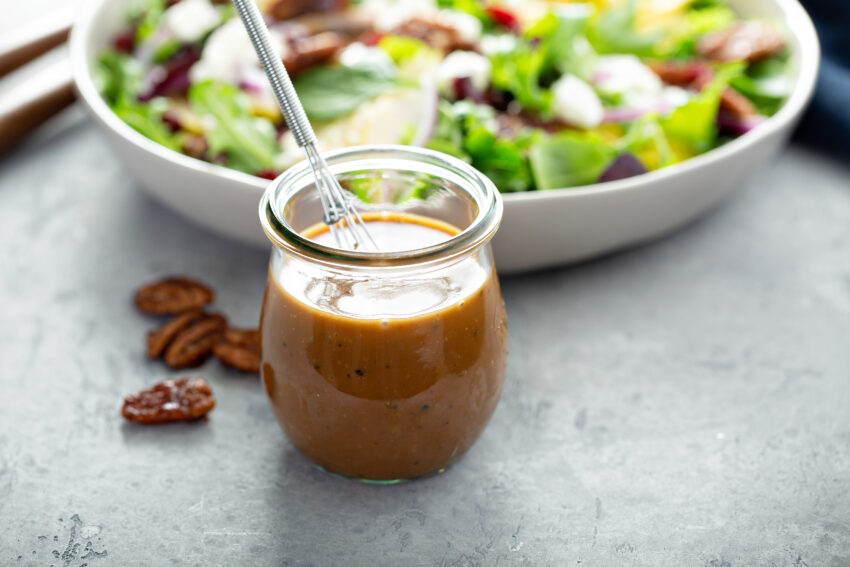 Looking for a quick and versatile salad dressing recipe to add a pop of flavor to your favorite salad? This recipe is a family favorite, in fact, it was the house salad dressing recipe for my uncle Kaz's restaurant – The White House in Goshen, NY. It comes together in just 5 minutes with basic pantry ingredients. Gluten and nut free!
Jump to Recipe
Creamy Balsamic Dressing Ingredients
To make this dressing, you need a total of under 10 basic ingredients!
red wine vinegar
balsamic vinegar
dijon mustard
salt
black pepper
fresh garlic
dried oregano
olive oil
egg yolk
Watch how I make it in this video
Jump to Recipe
Creamy Balsamic Vinaigrette Storage & Tips
This dressing is so satisfying because of it's silky texture and gratifying mouthfeel.
Keep dressing refrigerated when not being used. I like to meal prep it on the weekends and use it throughout the week.
Don't have olive oil? Use any neutral oil that you have on hand instead.
Concerned about using a raw egg? Those with a potentially compromised immune system such as children, the elderly, pregnant women and those suffering from cancer, are particularly susceptible to infection and should not consume raw eggs. Instead, you can substitute a squeeze of store-bought mayonnaise instead! When using raw eggs, the USDA recommends using pasteurized raw eggs only1.
Too much zing? If you taste your dressing after adding 2 cups of oil and feel it's a bit too strong, you can add an additional ½ cup of oil.
Instead of pouring onto your salad – Drizzle around the bowl and toss salad ingredients until coated. This will avoid overdressing and encourage consumption! There's nothing worse than a glob of dressing followed by dry greens.
How to Use
Combine romaine, tomato, red onion, radishes and carrots
Try it on your favorite pasta salad
Pour it over chicken pieces and let marinate over night before grilling
Use as a dip for crusty whole grain bread
Drizzle over your preferred grain bowl combination
Benefits of homemade salad dressing
You get to control the ingredients and limit added sugars, salt and saturated fats
Those who eat salad dressings were found to have considerably higher levels of key nutrients including vitamin C, E, and folic acid2
Salad dressing improves the absorption of fat soluble nutrients
Dressings with monounsaturated fats such as olive oil are a good option for those looking for a lower fat salad dressing option that is effective in absorbing nutrients such as carotenoids3. Polyunsaturated and saturated fats were effective, but absorption increased as quantities of dressing increased!
Family favorites like my Creamy Balsamic Salad Dressing make salads crave-able and something we look forward to!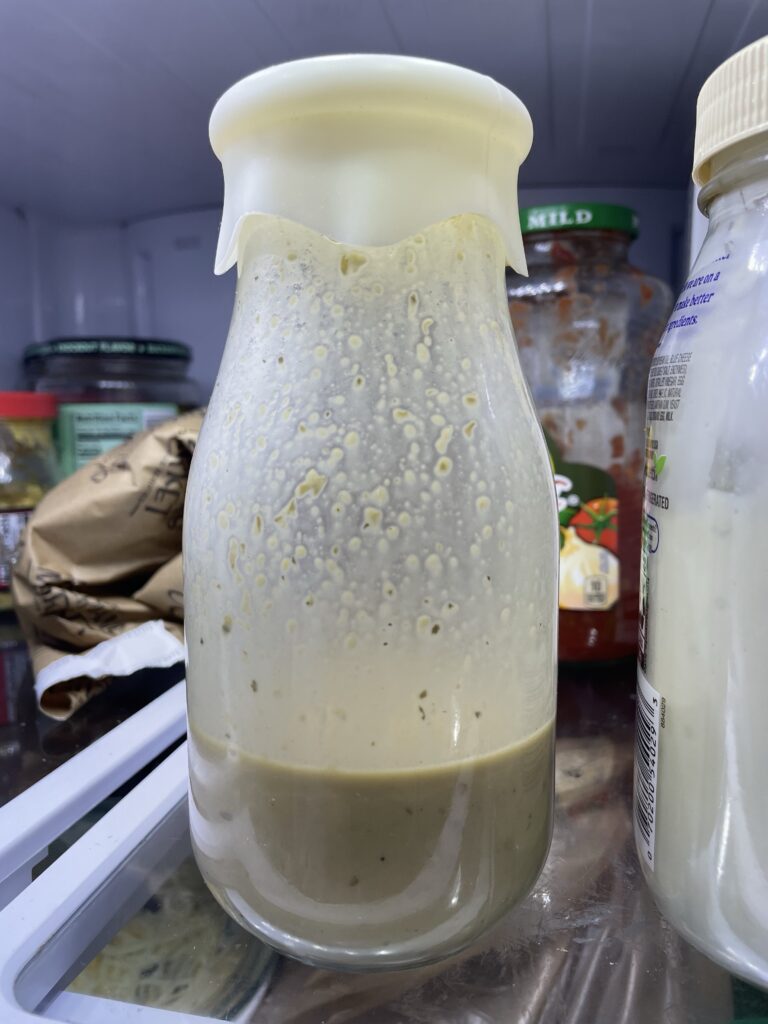 Common nutrients to gain from your salad!
Beta Carotene – a form of pre-vitamin A that is converted into vitamin A in the body. Vitamin A is needed to help maintain a healthy immune system and eyesight
Lutein – form of pre-vitamin A that also prevents damage to the eye from UV light
Lycopene – high intakes of which are linked to a reduction in prostate cancer risk in men
Vitamin E – antioxidant vitamin which also protects the body from the damage caused by free radicals
Vitamin K – essential for normal blood clotting
Vitamin A – important for healthy vision and maintaining healthy immune function
References
https://dressings-sauces.org/why-salads-are-good-for-you/#:~:text=According%20to%20the%20study%3A,alpha%2D%20and%20beta%2Dcarotene.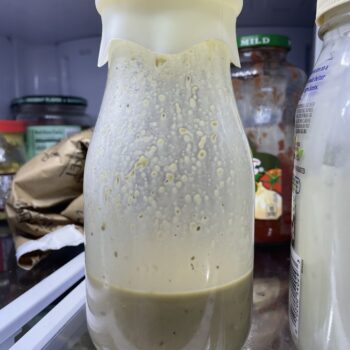 Creamy Balsamic Vinaigrette
This recipe brings me back to the days of working at my Uncle Kaz's restaurant. It was a signature recipe for the restaurant and I loved it. Flavorful and satisfying, I could eat it with a spoon.
Equipment
1 immersion blender

or whisk!
Ingredients
2/3

cup

red wine vinegar

3

tbsp

balsamic vinegar

1.5

tsp

dijon mustard

1

tbsp

salt

1/2

tsp

black pepper

6

cloves

garlic

or 1 Tbsp chopped

1

tbsp

oregano

dried

2

cups

olive oil

extra virgin

1

whole

egg yolk

1/2

cup

olive oil

optional
Instructions
Combine vinegars, dijon, salt, pepper, garlic, oregano.

Blend egg yolk and 1/2 cup olive oil.

With immersion blender, combine egg mixture with vinegar mixture.

Blend in remaining olive oil until desired flavor reached.

Salad dressings by nature are categorized as a fat. In this recipe you can see most of the fat is unsaturated, in fact it's monounsaturated because the source is olive oil. This is a heart healthy fat and even has a heart health claim from the FDA.