The Vegan (Carrot) Hot Dog Your Kids Will Love!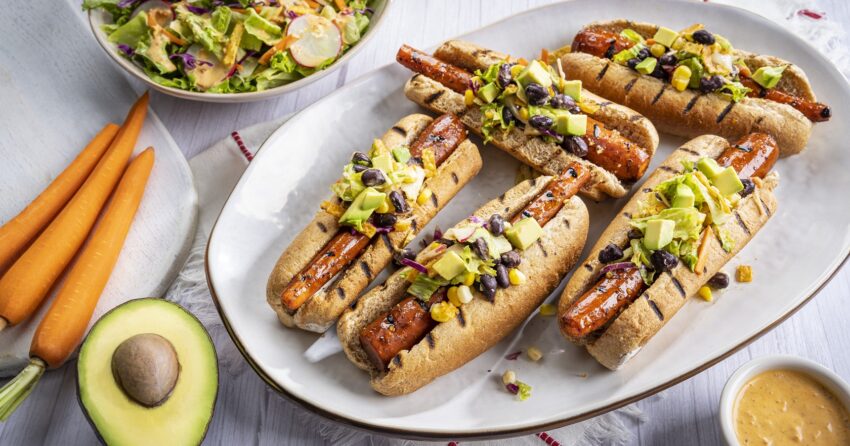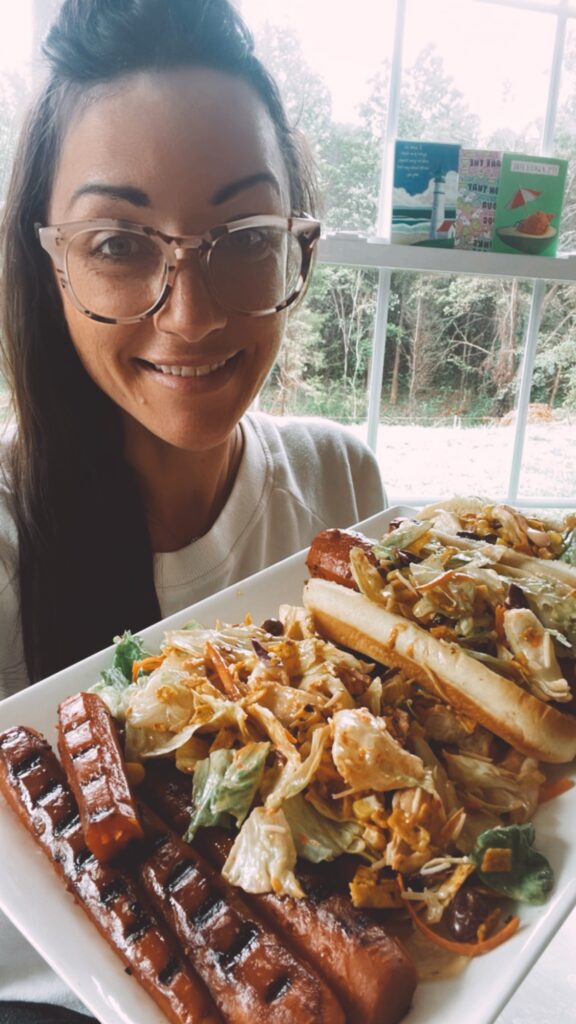 Does it feel like your kids are just eating hot dogs and chicken nuggets? This is my life right now! As a dietitian I know it's totally normal for kids to get stuck in a rut with food, but as a dietitian mom, I cringe a little bit inside every time we feed our children hot dogs, even if we do switch it up with turkey dogs every now and then. But this is life. Kids like what they like, and it's okay to include traditional "kid food" as part of the meal rotation because this is how they learn balance and moderation. Plus, they're more likely to try new foods, when familiar foods that they like are on the plate. So is there a healthy hot dog out there? YES! Check out this carrot dog!!
Jump to Recipe
That said. The all American favorite hotdog happens to be a source of saturated fats and sodium, which usually isn't a problem for children- but having them on a more frequent basis doesn't exactly lay the foundation for a lifetime of healthy eating. This is why I was thrilled to develop this healthy hot dog recipe with Dole Food Company. Ingredients were provided for me, but all of the opinions are my own.
These Southwest Carrot Dogs, a healthy hot dog alternative, and a kid food favorite, are an ideal substitute for hot dogs! Bonus – my children both approved! You could even just make the marinated hotdogs without the side salad for an easy plant-forward vegan bbq option.
It's recommended that children, just like adults make half of their plate fruits and vegetable at mealtimes. Orange and red vegetables should make the plate several times a week because in general they're an excellent source of vitamin A.2 They support eye and skin health and help keep our immune system at peak performance.
Carrot Nutrition
One large carrot has about 48 calories, 1g protein, 10g carbohydrate and 3g fiber!4
They're an excellent source of vitamin K and Fiber.
They're a good source of vitamins B6, C and E, folate, niacin, potassium and manganese.
One 2011 study published in the Nutrition Journal found that carrot juice increased antioxidant levels in participants. Authors concluded it may offer protection to the cardiovascular system.3
Why Vitamin A is important:
Like vitamins C and E it appears to scavenge free radicals, offering antioxidant protection.
Adequate levels of vitamin A are associated with a lower risk of cancer and heart disease1.
It's essential to eyesight! Vitamin A helps us to react to changes in brightness and it also helps us see different colors.
On a cellular level, it helps cells become highly specialized – which is a really good thing.
Vitamin C and potassium are often also found in red/orange fruits and vegetables. Vitamin C supports healthy teeth and gums, helps with iron absorption and is important to be sure scrapes and cuts heal properly and quickly. Potassium is a nutrient of concern for most people and helps counter the effects of sodium. It also helps us maintain healthy blood pressure.
---
Which are better? Raw or cooked carrots?
Raw baby carrots are a go-to snack for me with hummus or other dip, but I remind myself that cooked carrots provide greater amounts of vitamin A because cooking them (as we do with this carrot dog) helps break down cell walls to make it more easily absorbed in the body! Pureeing, chopping into soups and carrot juice are particularly good options.
If carrots aren't up your alley, other vitamin A-rich foods to try include:
Jump to Recipe
Acorn squash
Butternut squash
Pumpkin
Red bell peppers
Sweet potato
Tomatoes
---
What did I learn from making this recipe?
It's super easy. Marinade and grill. That's it.
The only change I made with the carrot dog was to use Mrs. Dash No Salt Added Steak Seasoning. Regular steak seasoning has a lot of salt. This swap keeps the added salt to a minimum.
You can totally make the marinade in advance to keep things easy the day of entertaining, but it'll also work if you marinade that morning for an afternoon grill out.
---
Keep these ingredients in your pantry to whip these vegan healthy hot dogs together anytime!
Pineapple juice
Lower sodium soy sauce
Apple cider vinegar
Avocado oil
No salt added steak seasoning
Liquid smoke
Liquid smoke wasn't as difficult to find as I thought it would be. My local Food Lion grocery store had it right next to the BBQ sauce section.
Jump to Recipe
Do I need the liquid smoke to make the carrot dog marinade?
I say yes. You're going for a hot dog flavor then this is going to deliver it. It's a unique product that I don't use frequently in my cooking, but I would use it again. It's not too overpowering and does create a HUGE impact with flavor!
Are the healthy hot dogs Vegan or Gluten Free (GF)?
This carrot dog (aka healthy hotdog) is vegan. Marinade ingredients are all naturally vegan, but read labels when purchasing products to confirm.
This vegan bbq superstar could also easily be made gluten free, you would just need to use a GF soy sauce like tamari instead. There are also GF brands of liquid smoke – like Stubbs, so be sure to read labels if this is a new ingredient for you! And of course, use a GF bun.
Note the Dole Salad kit does not state on package that it is gluten free or vegan.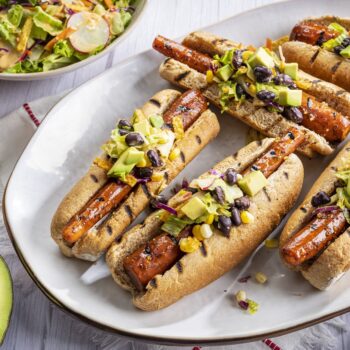 Southwest Carrot Dog
This plant forward option for the classic hotdog from Dole Food Company can't be beat!
Ingredients
8

large

DOLE®Carrots

peeled, ends trimmed to length of hot dog buns

1/2

cup

DOLE®Pineapple Juice

1/2

cup

less-sodium soy sauce

1/4 plus 3T

cup

apple cider vinegar

1/4

cup

avocado oil

1 1/2

tbsp

steak seasoning

I like Mrs. Dash no salt added

3/4

tsp

liquid smoke

8

each

100% whole wheat hot dog buns

1

bag

DOLE®Southwest Salad Kit

1/4

cup

reduced sodium black beans

drained and rinsed

1/4

cup

frozen corn

thawed

1

each

DOLE®Avocado

peeled,pitted and chopped
Instructions
Heat carrots and enough water to cover by 2 inches to a boil in a medium saucepot over high heat; boil 8 minutes or until easily pierced with a fork. Drain and rinse carrots under cold running water until cool; pat dry and place in a large zip-top plastic bag.

Whisk juice, soy sauce, vinegar, oil, seasoning and liquid smoke in a medium bowl; pour over carrots. Seal bag, pressing out excess air; massage carrots in bag to coat and refrigerate at least 4 or up to 24 hours.

Prepare outdoor grill for direct grilling over medium heat. Remove carrots from marinade; reserve ¼ cup marinade. Spray carrots with cooking spray and place on hot grill rack; cover and cook 10 minutes or until heated through and grill marks appear, brushing with reserved marinade and turning ¼ turn every 2½ minutes. During last minute of cooking, place buns, cut side down, on hot grill rack; cover and cook 1 minute or until lightly toasted.

Prepare Salad Kit as package directs in a large bowl; stir in beans and corn. Makes about 4 cups.

Serve carrots in buns topped with salad mixture and avocado.
Let me know if you try this recipe. I bet it'll make your family take a second look to realize their eating a carrot dog and not a hot dog!!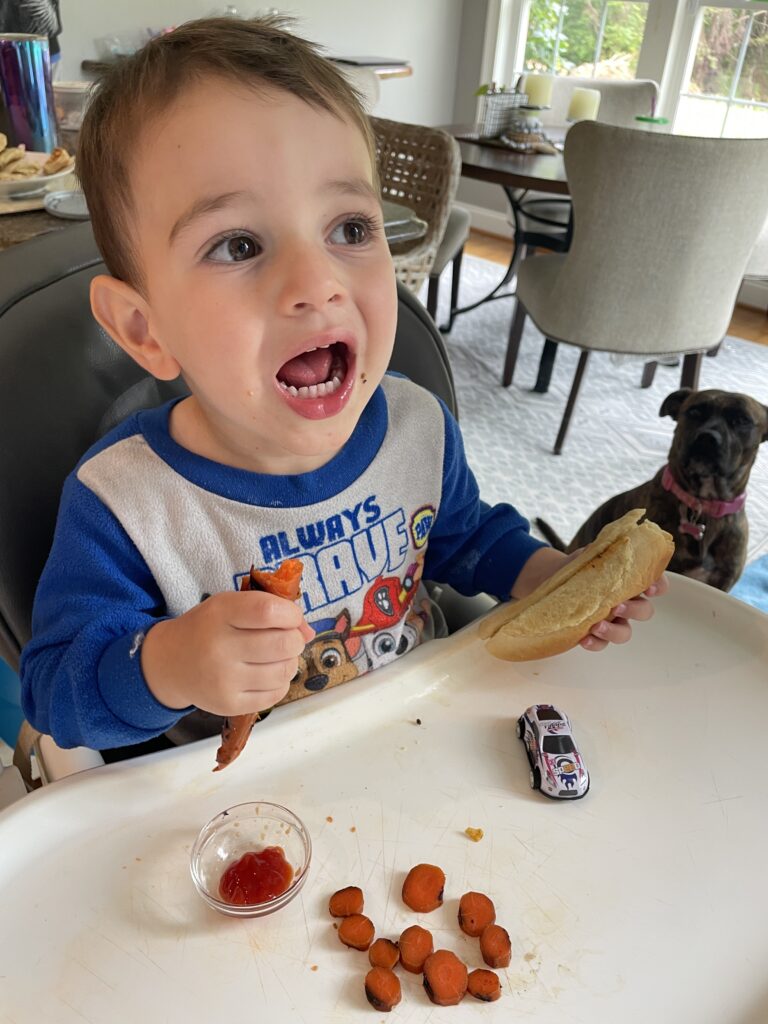 Did your kids like carrots?
They're great tasting on their own but can be combined with other flavors well too! Try adding them to a vegetable stir fry, another kid food favorite, for additional nutrients. If you try this healthy hot dog please let me know!
Janice Thompson and Melinda Manore, Nutrition An Applied Approach. (New York: Pearson Education Inc, 2009).
Tonia Reinhard, Super Foods. (Firefly Books, 2014).
https://fdc.nal.usda.gov/fdc-app.html#/food-details/2258586/nutrients