Easy weeknight meals with Dole Sheet Pan Starter Kits!!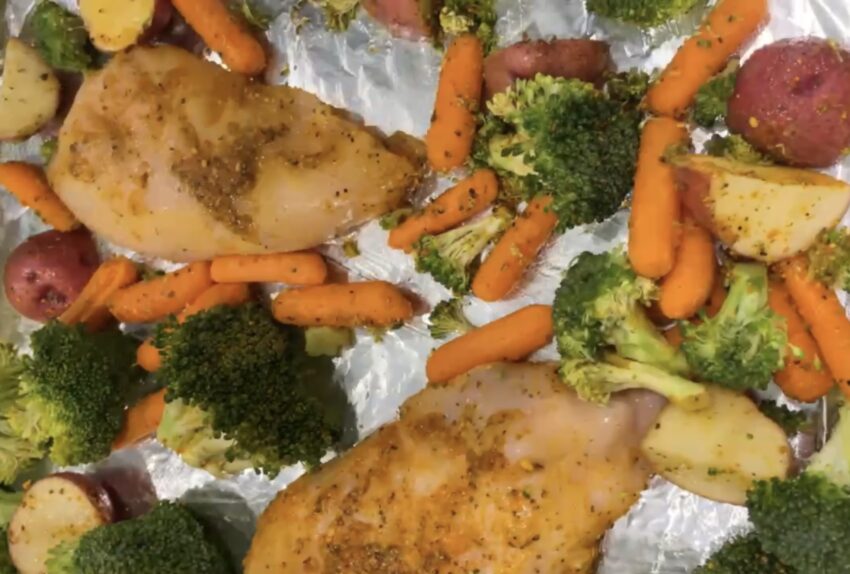 To say life with kids is hectic, is a complete understatement. Between school, work, sports, birthday parties and family visits there is always something going on – and I think moms everywhere will agree with me, time for meal planning is precious. So in the spirit of sharing things that are too good to be true…read on for my experience with these Dole Sheet Pan Starter Kits.
Ever since culinary school, I loved roasting. My culinary school partner in crime, Tracy, observed early on, that there's nothing I loved more than a good roast – or anything that can be made in the oven. And what's not to love? It's an easy, hands off, clean way to get dinner on the table using a conventional sheet pan. So when Dole came out with a new line of sheet pan starter kits I was ecstatic. There are three popular flavors, including French Onion, Homestyle Roasted Herb and Lemon Parmesan flavor varieties. They include a combination of ready-to-roast vegetables including red potatoes, whole baby carrots and broccoli florets or green beans, plus a delicious seasoning packet. All you need to do is add your favorite choice of protein to the fresh vegetables and roast for 30-35 minutes.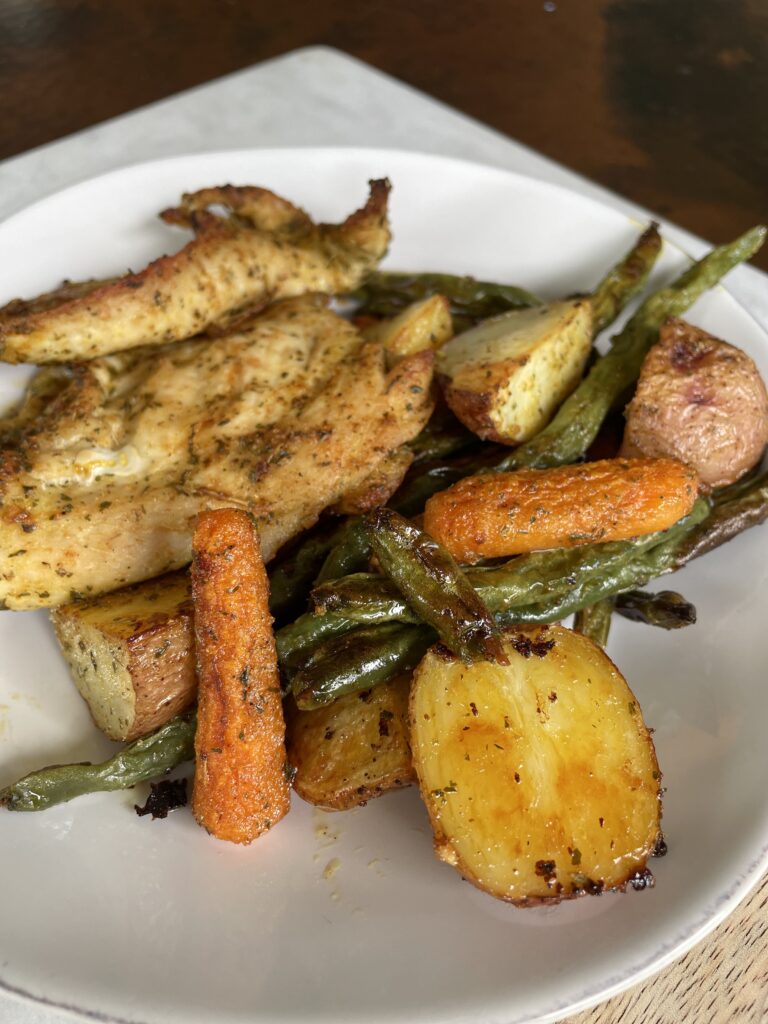 And if you've been getting recipe inspiration online (AKA Pinterest trend data), you know about the growing sheet pan meal trend. It's everywhere.
Sheet pan dinners make for easy cooking and even easier cleanup!
So on their own, these unique products fill a consumer need and offer a flavorful meal experience, but it actually gets better! Each of the distinct flavor varieties can be transformed into a completely different meal. Let me explain.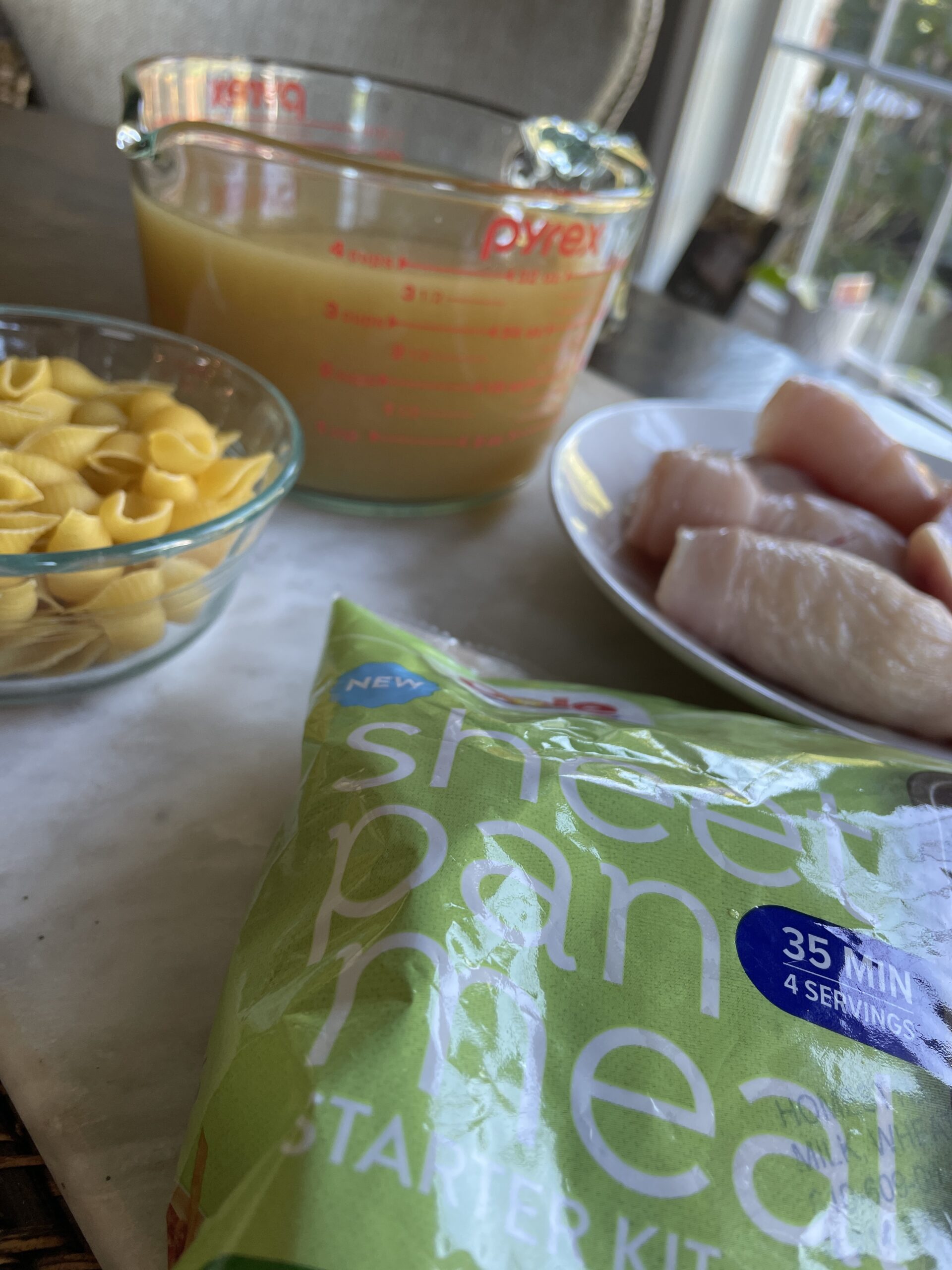 When you make your new sheet pan meal starter kits at home, you'll get a perfectly seasoned and balanced plate that includes protein, carbohydrate and fat (we recommend olive oil). But, we experimented further with the kits to see how we could transform them into soups and wraps, meals that could be made on the grill, even breakfast sheet pans, perfect for brunch! I've personally tried them all and couldn't believe that one truly got better than the next.
Just in case you're new around here, I am a registered dietitian and nutrition and health communications manager for Dole Food Company. Dole generously covered the cost of ingredients for these recipes, but all of the opinions are my own!
Use Dole Sheet Pan Starter Kits to make healthy meal solutions!
The combination of lean proteins with fresh Dole vegetables is more versatile than you would think and the perfectly paired seasoning packet provides more than enough to create these dishes below. Each of these recipes can be found at Dole's website.
French Onion Turkey Burgers with Veggies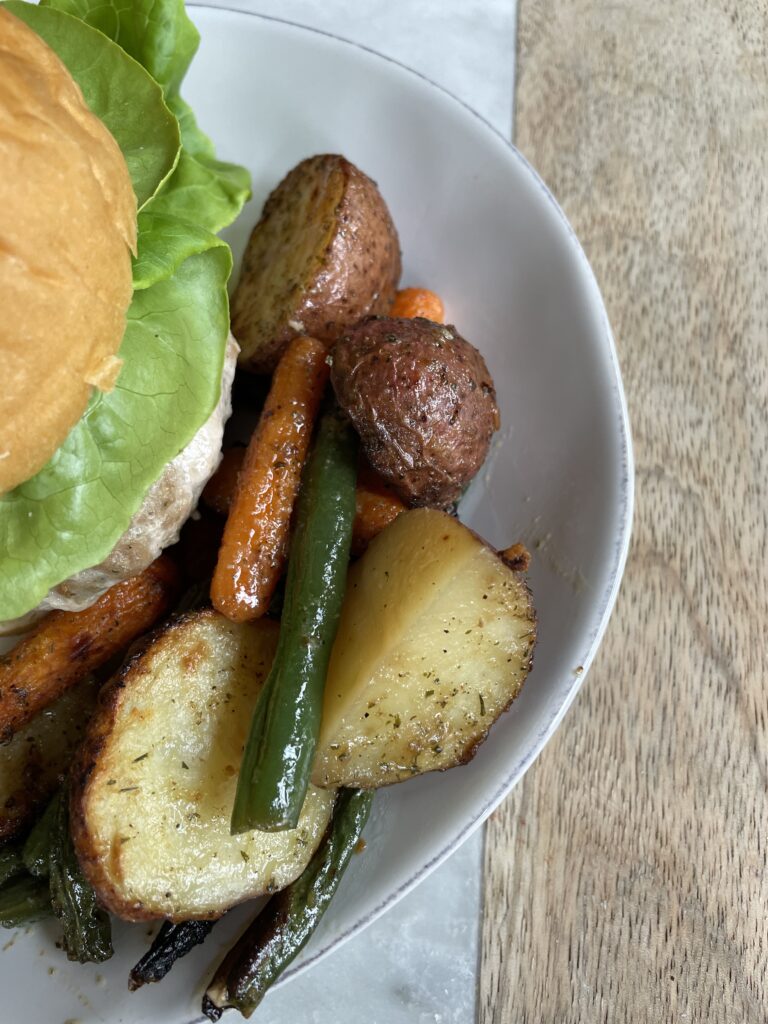 This was a no brainer! Combining the seasoning packet with extra lean ground turkey was easy to do and it all roasted together in the pan. The simple addition of truffle aioli (I used a vegan version from Trader Joe's) was so good!! It's seriously crave-able.
Sheet Pan French Onion Sandwich Wraps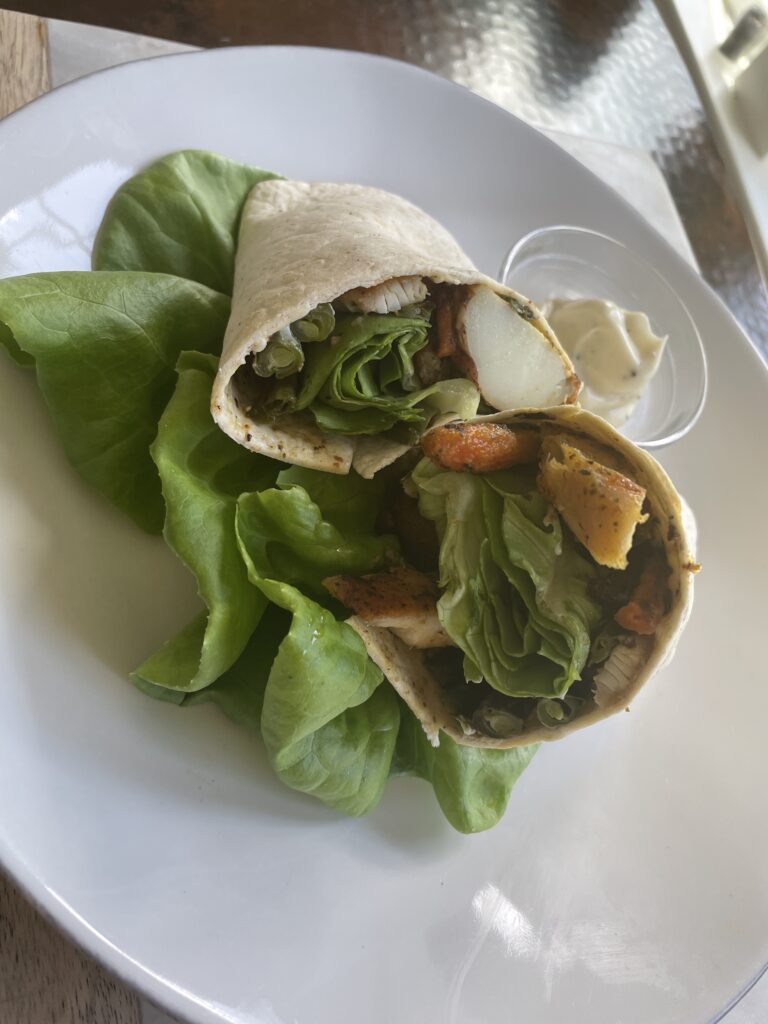 I loved this for leftovers. (If you have any!). Just reheat them and drop into your favorite wrap with mayo.
Lemon Parmesan Sheet Pan Pasta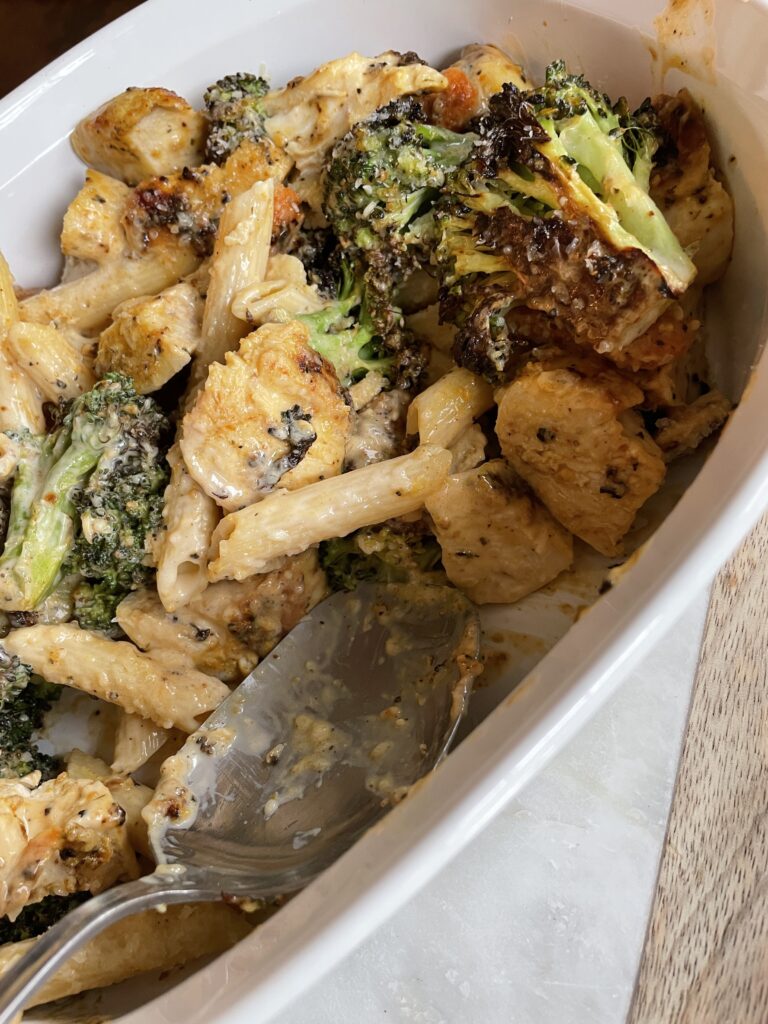 Who doesn't love a pasta night? This is the perfect meal for aspiring athletes. It's a great way to carb load with whole foods that taste delicious. It's also a good solution for leftovers. All you need to do is add pasta, parmesan cheese seasoning and a jar of your favorite sauce – I used Rao's Alfredo – and bake until cooked through. It was a major crowd pleaser.
Breakfast Sheet Pan Meal
Talk about a way to impress your guests! Just replace the cooked chicken or add eggs to your protein of choice for a hearty breakfast for a crowd.
Roasted Chicken & Vegetable Soup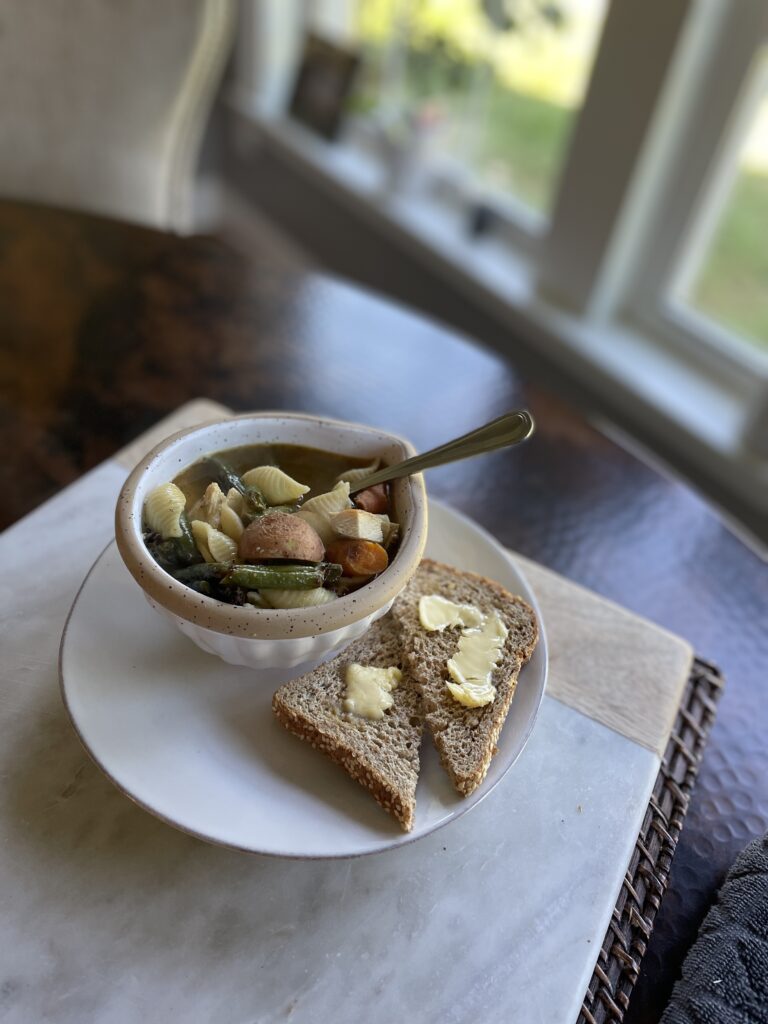 The fresh-cut vegetables make soup a natural choice to transform this kit. After roasting as directed, add ingredients to a stock pot with chicken broth. It's that easy.
Herb Salmon & Foil Pack Grillers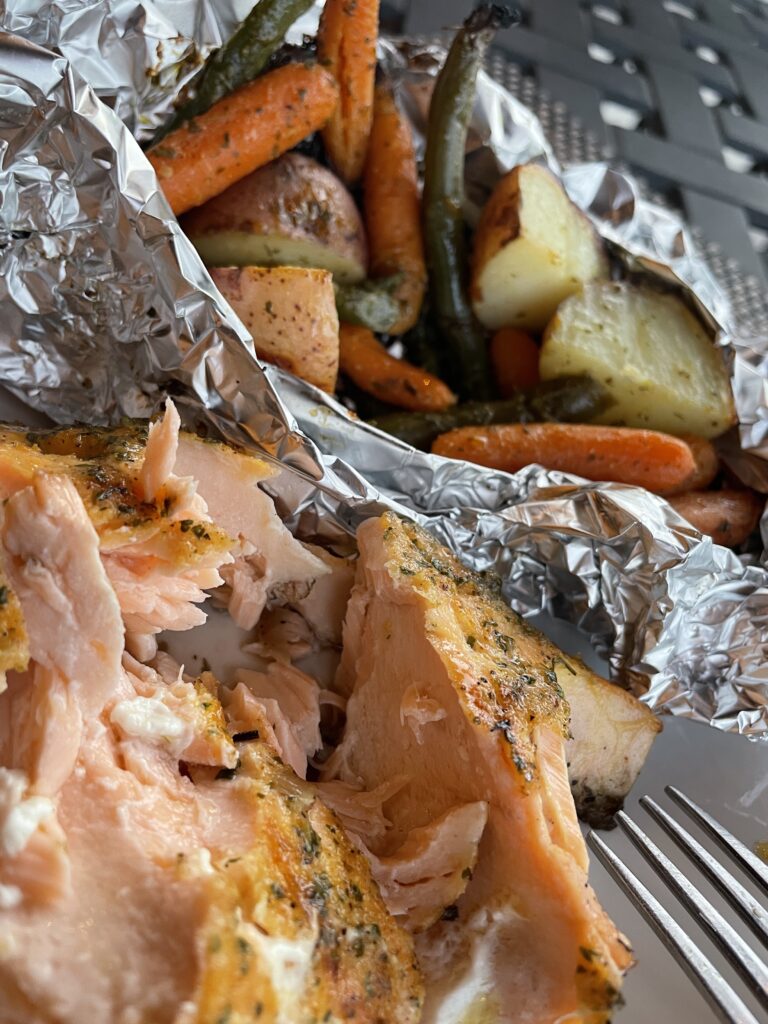 We love cooking on the grill to keep the heat out of the kitchen, and these foil packets were so easy to throw on the grill. They didn't need to be babysat or anything. My children loved the salmon and got a kick out of seeing their veggie foil packets!
So grab your favorite protein – chicken, salmon, pork, ground beef, different varieties of seafood – whatever and you can literally have one of these fresh vegetable meals on your table in 30 minutes.
Are Dole Sheet Pan Meal Starter Kits Macro Balanced?
They are!! These kits are perfect for a regular macro day if you're following the FASTer Way to Fat Loss and if you're tracking macros, it's easy to see where your carbohydrate, fat and protein are coming from. The potatoes help ensure you get a source of whole food carbohydrate to fuel your workouts, and you can use any protein you like! If I'm meal prepping for myself, I like to use a little less seasoning and then break out into 2 hearty portions.
When prepared as suggested, the Lemon Parmesan has 340 calories, 17g Fat, 18g Carbohydrate, 3g Fiber and 29g Protein.
But like I said, you can easily modify oil and protein choices for your needs!
So where do you find them?
Distribution started in select markets in the United States, but recently I have been able to find them near Charlotte and friends of mine in New Jersey have also tried them! I hope to see additional future flavors and new products come out soon… after-all there's nothing better than single-pan meal options to get restaurant-quality meal on the table!
For more recipes and meal inspiration check out these links