Quick, Simple & Satisfying Weeknight Split Red Lentil Soup Recipe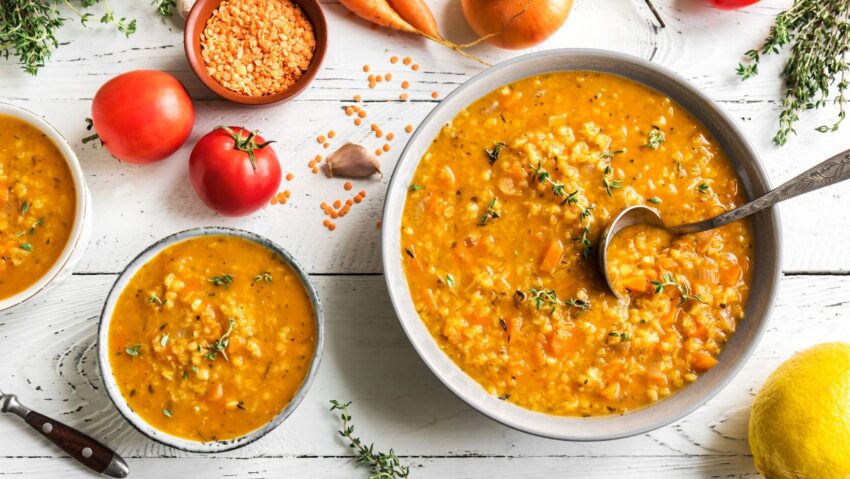 I got home from Costa Rica last week the seasons had turned. It was chilly and windy and seemed as though sweater weather had set in. As I went through my pantry to get a few ideas for weekly meals – the bright split red lentils stood out at me. I got them at a European market on the other side of Charlotte over the summer, but now is their time! I saw a red lentil soup recipe from Trader Joe's that is simple and easy… but I used it as inspiration to make this one, which is even easier and can be made on busy weeknights without much effort. If you're in the mood for a hearty soup – READ ON!
Jump to Recipe
What do red lentils taste like?
They have a very mild flavor, even slightly sweet which makes them a good introduction to the lentil family for you or little ones!
Ingredients and substitutions
Split red lentils – aka red split lentils, these little guys cook up quickly so I don't recommend substituting with other types of lentils such as brown lentils, yellow lentils or green lentils. You could, but the cook time will be longer, and the beauty is that it's an easy lentil soup recipe for any weeknight. It has simple ingredients and doesn't require a long cooking time to ensure everything is cooked properly.
I do suggest however, to rinse lentils in a fine mesh sieve under cold water. Run your fingers through the lentils to be sure small stones or other debris are not included.
If you can't find split red lentils, plain red lentils cook quickly and will work just fine in this recipe!
Chicken broth – You can substitute with 32 ounces of vegetable stock or water and bouillon cubes if all else fails!
Mirepoix – This is my major shortcut. The original recipe calls for just onions, but can you ever go wrong with carrots and celery too? If I go to Trader Joes, during the winter, I always pick up pre-cut mirepoix. This way I can literally throw together a healthy meal that can be eaten right away or stored in the freezer for a quick meal. Alternatively, I could cut my veg the old fashioned way or blitz them in the food processor (but that's less appealing because it's more to clean).
Yellow or green squash – For me, these say "summer", but they do add a nice texture to this soup, and obviously a lot of nutrition. You could leave them out or substitute with a few handfulls of baby spinach.
Can of tomato sauce – This helps contribute to that beautiful orange color, but if you don't have them a can of diced tomatoes or even a few Tbsp of tomato paste will do. Tomatoes add umami to any dish, so don't skip them!
Chicken sausage – This ingredient could be left out, but I think it adds great flavor plus lean protein! I opt for a variety with mushrooms, but any flavor you like will work well. Alternatively, you can add any of your favorite plant-based protein options just before serving.
Olive oil – You can use any neutral oil like avocado or canola, but olive adds great flavor. Use it if you have it. Butter will work too!
Salt and black pepper – This is obvious, but my secret ingredient is Seasonello. I love this stuff and I'll have to dedicate an entire post to it. It's an Italian seasoning salt that makes every dish feel homey to me. I highly recommend buying it as a seasoning pantry staple.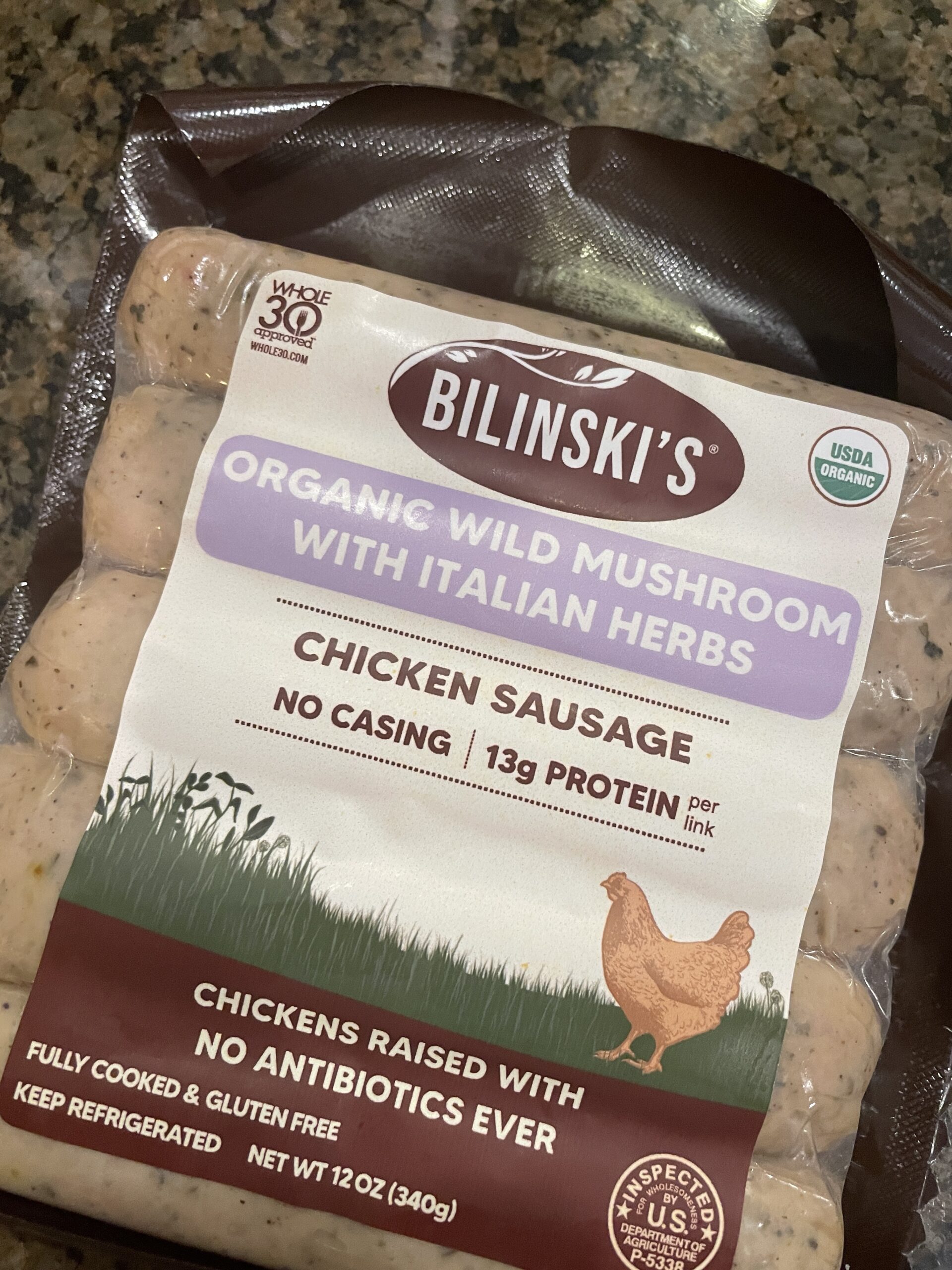 How to make hearty red lentil soup?
Jump to Recipe
Using a large pot or Dutch oven, heat olive oil over medium-high heat, add mirepoix and zucchini. Let it cook until translucent.
Next add the sausage. Let it cook until browned. Then add remaining ingredients including lentils, stock, tomato sauce, salt and pepper and cook over medium heat until lentils are fully cooked through.
Variations
You can easily improvise with this recipe and add anything from sweet potatoes to coconut milk to deepen the flavor. Indian spices, curry and fresh ginger are great additions to this soup!
You can also make a smooth version by reserving your sausage after cooking. Then simply use an immersion blender to blend the soup until it yields a smooth creamy consistency. Sometimes it is worth the extra step, but other times, I want something that has a little more texture.
You're probably wondering if you can make this in an instant pot. And you probably could. Just be sure to cook your vegetables well and brown your sausage before adding the rest of the ingredients. But it won't save you that much time, this recipe can be done in under an hour.
Can I make this dish vegetarian?
You sure can! Leave out the sausage- don't worry you'll get plenty of protein from the lentils! And of course, swap in your favorite vegetable broth instead of the chicken broth.
What to serve with red lentil soup?
Crusty bread or pita
Side salad
Greek yogurt or sour cream
Squeeze of fresh lemon juice or lime juice
How to store leftovers
After you let the soup cool, I recommend dividing into 4 equal portions in 1/2 quart containers. I love to re-use to-go containers here! Once they're in the fridge you can store in an airtight container for 4-5 days or label and freeze for another day. The portion sizes are hearty and it tastes even better the next day!
What else can I make with red lentils?
While I haven't tried all of these… I think they're worth experimenting with to use up your bag of lentils!!
Nutrition benefits
Just 1/2 cup serving of these red lentils have 358cal, and 24g protein. That's equal to the protein you'd find in any poultry, meat or seafood serving! It also delivers an important source of 11g fiber 7g iron, 650mg potassium, 48mg calcium, 59mg magnesium, 3.6mg zinc.1
Fiber is a superstar in this dish. Each serving provides 12 of the 25-35 recommended grams of fiber you need in a day. Fiber helps keep us regular and helps support blood sugar control and cholesterol levels! We should all be aiming to reach recommended fiber intake daily.
Protein is the last nutrient I'll call out for this recipe. With 41g per serving, you can be sure you'll feel satisfied after eating this soup! The lean protein and fiber combo won't leave room for any cravings in-between or after meals. Let me know if you try it!
How does this recipe fit into my macros?

I like to divide this recipe into 4 portions. If you like smaller portions, I'd recommend dividing into 6 equal portions.
With 4 portions you have 470 calories (which fits well into my macros as a hearty meal). It has 13g fat, 48g carbs, 12g fiber and 41g protein! It's ideal for a regular macro day!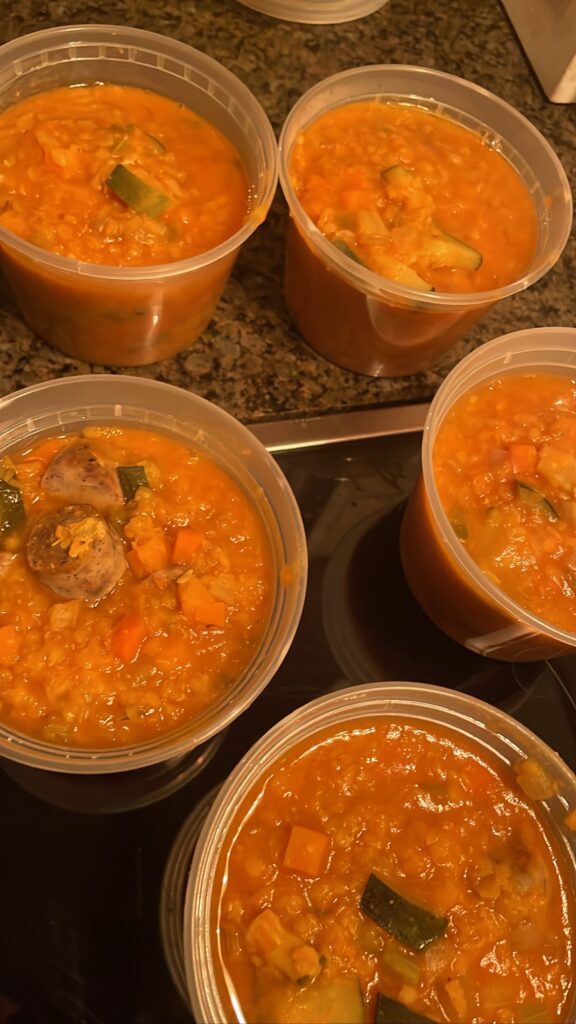 References
1 https://fdc.nal.usda.gov/fdc-app.html#/food-details/174284/nutrients
Thanks for reading along with me! Check out these other articles that may interest you!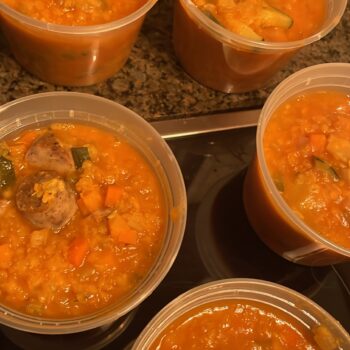 Easy Split Red Lentil Soup
This super fast, protein packed recipe can be made any night of the week in under an hour!!
Ingredients
2

tsp

olive oil

1

quart

mirepoix

1

each

zucchini, chopped

about 1 cup

1

package

chicken sausage

I like TJ's mushroom

1

cup

split red lentils

1

can

tomato sauce

14oz

32

oz

chicken broth

1/2

tsp

salt
Instructions
Add 2 tsp olive oil to large Dutch oven. Add mirepoix and zucchini and sauté until translucent. Season with salt and pepper.

Add chicken sausage and let brown slightly.

Then add lentils, tomato sauce and chicken broth.

Bring everything up to a boil and then down to a simmer for about 40 minutes.

Once everything is cooled, divide into 4 equal portions. I like to use pint containers for easy meal prep lunches!