Big batch cooking for beginners – save time and money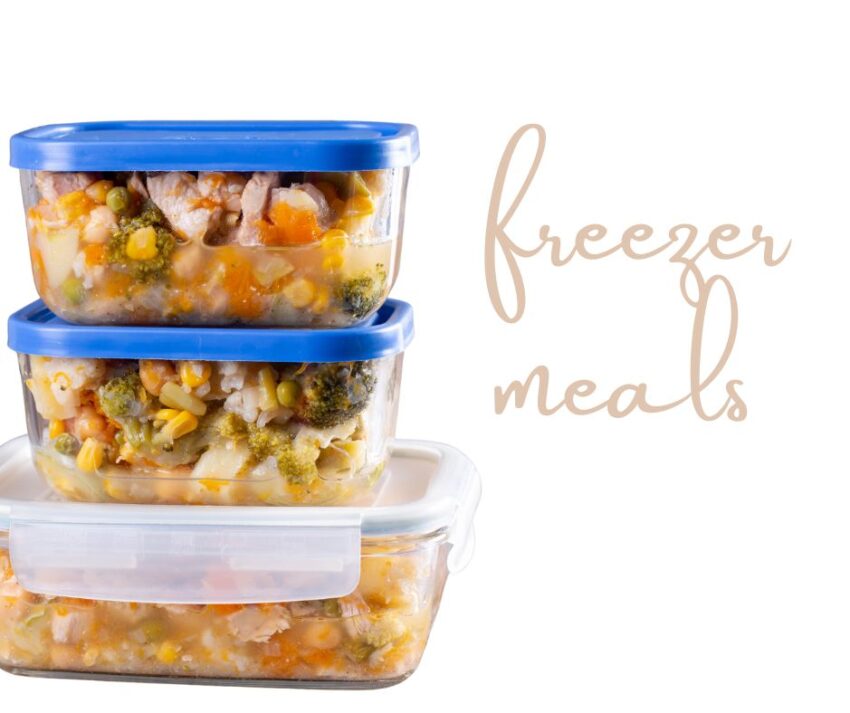 Let's go a step beyond crockpot and freezer meals and talk about batch cooking as a time-saving strategy. With this approach to food, you dedicate 1-2 days a month (a couple of hours each day) to cook large quantities of your favorite recipes. I'm not talking about doubling – I'm talking about cooking big batch meals, like 3-4 times each recipe. It's a great way to meal prep because you cook, freeze and store food for future weeknight meals while simplifying the cooking process. What can be easier than that? You cook once, have a variety of healthy meals available then you spend less time cleaning, meal planning and food shopping!
This article was inspired by a piece written for Dole Food Company!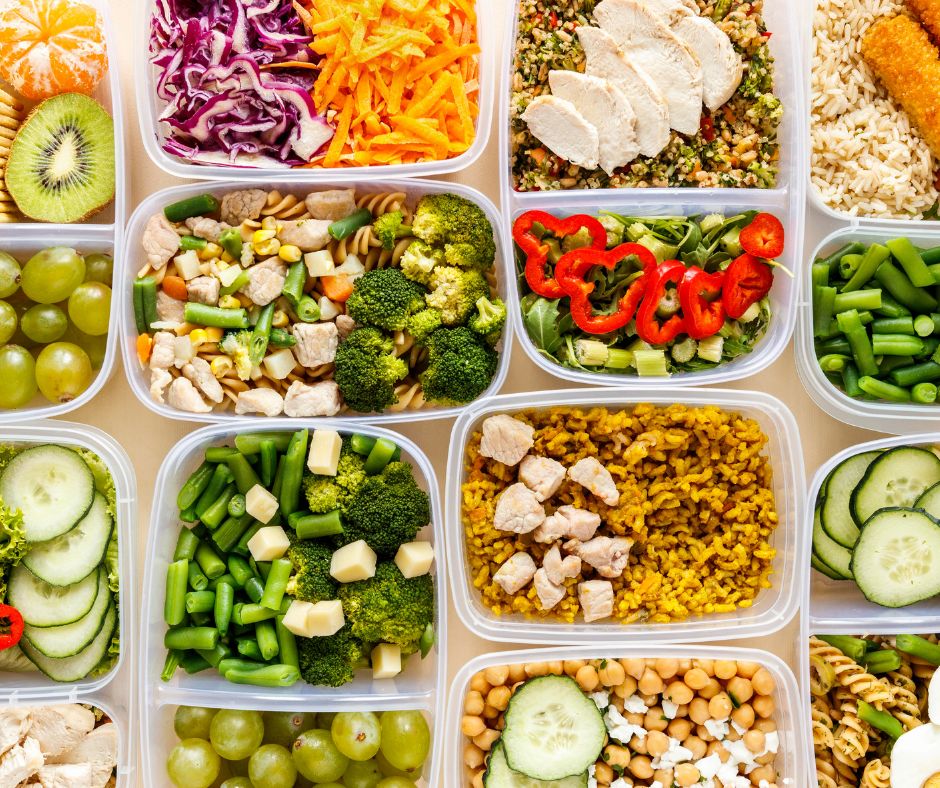 And let's face it, when life is busy and time is short, there's nothing better than gaining precious time to spend with loved ones or just doing more of what you want to do!
I love this concept for my family because it saves you time, money, cleanup, plus you'll have a bunch of healthy recipes at your fingertips to get you through weeks ahead! If you're only cooking for 1 or 2 you can divide into separate containers if you want to meal prep individual meals.
This method truly makes putting a good meal on the table a breeze.
Special equipment for easy batch meals
Slow Cooker
Instant pot
Plastic bags
Individual food containers
Airtight containers
Extra freezer
Labels and sharpie
When it comes to special equipment, you can almost always modify a cooking technique for another piece of equipment if necessary. So don't worry if you don't have a slow cooker or instant pot! Just don't forget the labels, you need to know what you have in stock and the date it was made!
Tips for grocery shopping large meals
Whether you're cooking nutritious meals or good ol comfort food favorites, shopping online will help you save so much time, especially when you need to pick up a bunch of ingredients! It'll also help prevent food waste because you'll be preparing purchased product right away, so it won't go bad in the produce drawer!
First, identify your recipes by choosing 1-4 recipes that you enjoy eating. If you're a beginner at this, start with one recipe and build up week after week. For example, you can start with a basic baked ziti and simply double the recipe.
Next make your grocery list. I recommend doing this online and double check sizes of product needed. For example, if a recipe calls for a 28oz can of diced tomatoes, be sure not to choose a 14oz can instead! Just use the search bar and add items to your list one by one! Couldn't be easier. I'm always surprised at how much I save when I do this!
Consider making a Costco run to save on buying products in bulk. My main concern with Costco on a normal week, is that we won't use a package of broccoli, pesto or even fresh fish up before it goes bad, but large-batch cooking calls for a lot of food!
If it's summertime, check out your local farmers market to see what's in season.
Pantry staples for batch cooking meals
Variety of spices – I like to buy these as needed and in small batches because they do expire and lose potency. They are also expensive and a little goes a long way.
Sweet potatoes and regular potatoes – nutrient dense, gluten free and taste great. THey're a kitchen workhorse.
Onions and garlic – these are so healthy for you and they're also major flavor enhancers!
Broth – I suggest always getting low or no sodium broth. This way you can control the amount of salt and the overall flavor.
Breadcrumbs – Gluten free or plain breadcrumbs are a pantry staple. Season as needed.
Olive oil – Save the extra virgin for your salad dressings.
Canned beans, lentils – Go with low sodium or dried.
Canned diced tomatoes, tomato sauce – common ingredients in soups, chili and pasta dishes.
Items like brown rice, white rice, wild rice and pasta can usually be made quickly to go along with your batch meal at the last minute. You don't need to prep and freeze these.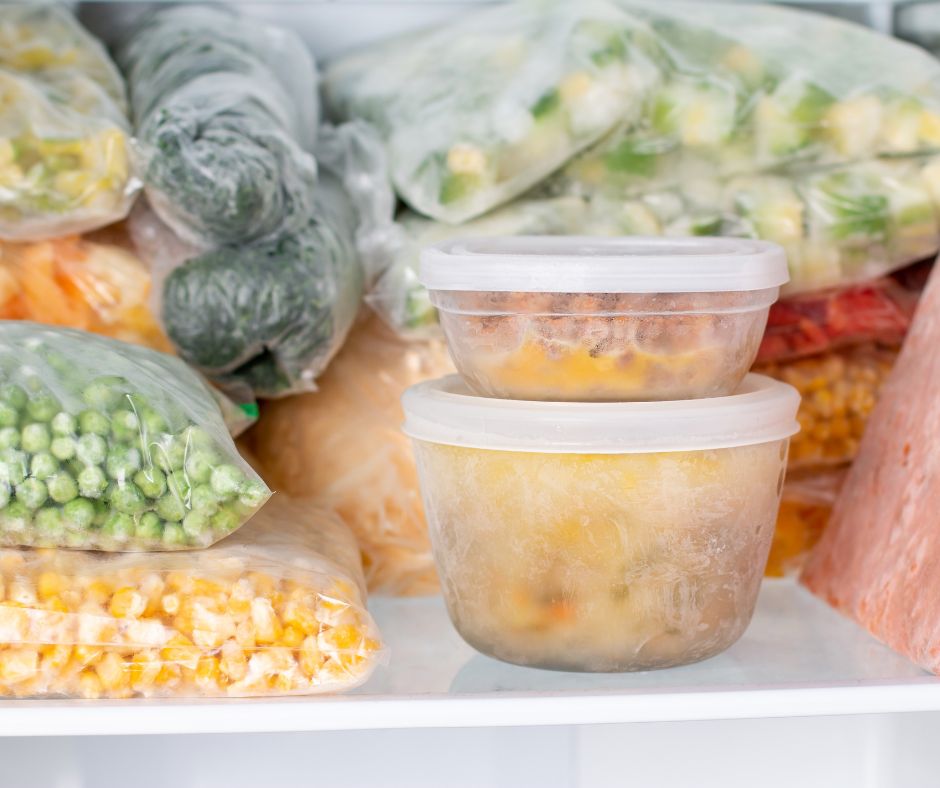 What types of recipes are best for batch cooking?
Make your batch cooking a success by coming up with a menu plan that lends itself to reheating. With a little planning, you'll have your own list of go-to recipes and enjoy the beauty of batch cooking for yourself – week after week!
Pasta dishes such as lasagna or baked ziti are – AMAZING!
Soups such as lentil or minestrone
Muffins
Enchiladas
Burritos
Casseroles
Sauces, such as tomato sauce or curry, or salad dressing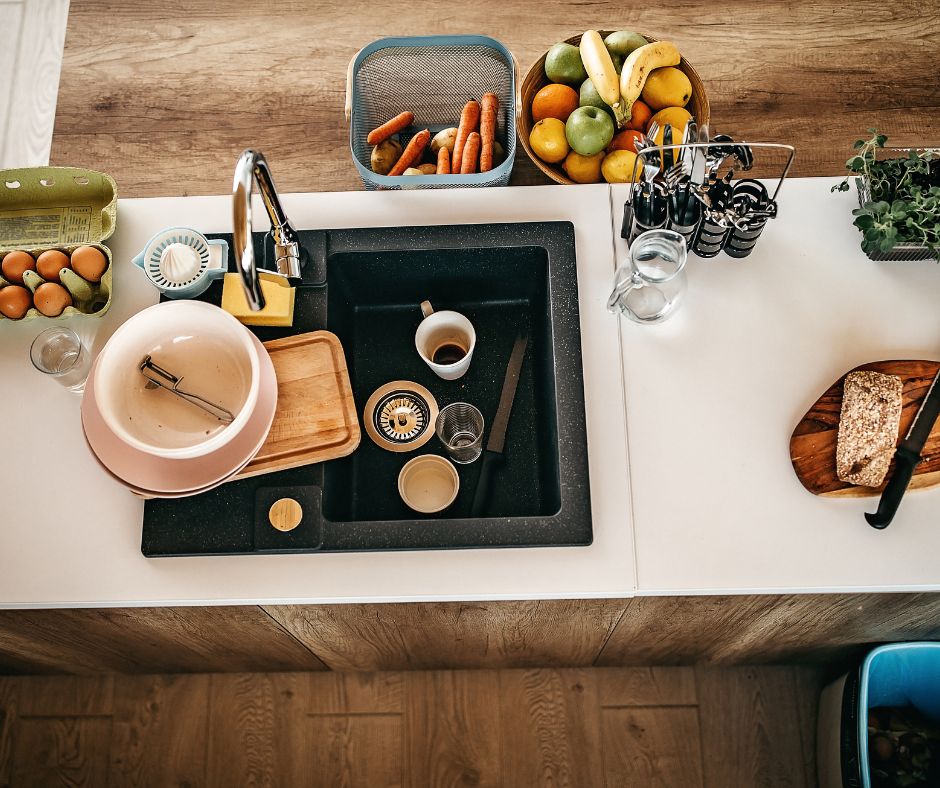 How to avoid freezer burn
The easiest way is to allow cooked food to reach room temperature on the counter and then chill before freezing. First cool food from 135 to 70 degrees within two hours, and then from 70 to below 41 within the next four hours. Seal in ziplock bag, wrap tightly with plastic wrap or enclose in freezer safe container, then label with the name of the recipe.
Five Tips for batch cooking success:
Select Winning Recipes. Choose recipes you know your family will love. My family loves Three Cheese Baked Ziti, Turkey Meatloaf and Red Lentil Soup.
Shop in Bulk. Once you select recipes, take inventory of what spices, pasta and canned goods you have on hand and buy the rest. You may even find that you spend less money on groceries because you are laser-focused on specific dishes.
Have the right container! If you're making lasagna or casseroles, choose freezer-safe glass ware, or save time on cleanup with recyclable aluminum trays. Keeping pans the same size helps maximize space in the freezer too!
Cool foods fully before labeling and freezing. First cool food from 135 to 70 degrees within two hours, and then from 70 to below 41 within the next four hours. Label each container with the name of the recipe and date it was made for easy recall!
Make a schedule – Keep your family traditions intact by writing in your Taco Tuesday's or Pizza Friday's and adjust your schedule accordingly! Just take 5 minutes to write out your monthly menu to help reduce decision stress and fatigue! And if it seems repetitive, try to remember what you ate yesterday for lunch – I bet no one will realize they're on a rotation.
Here's a sample schedule:
| | | | | | | |
| --- | --- | --- | --- | --- | --- | --- |
| Monday | Tuesday | Wednesday | Thursday | Friday | Saturday | Sunday |
| Turkey Burgers with Sweet Potato fries | Taco Tuesday | Lentil Soup with Garlic Bread | Leftovers | Pizza Friday | Eat Out | Grilled Chicken and Vegetables |
| Three Cheese Baked Ziti | Taco Tuesday | Leftovers | Lentil Soup with Garlic Bread | Pizza Friday | Turkey Burgers with Sweet Potato fries | Eatout |
| Grilled Chicken and Vegetables | Taco Tuesday | Lentil Soup with Garlic Bread | Leftovers | Pizza Friday | Eat Out | Sheet Pan Salmon |
| Three Cheese Baked Ziti | Taco Tuesday | Turkey Burgers with Sweet Potato fries | Lentil Soup with Garlic Bread | Pizza Friday | Leftovers | Grilled Chicken and Vegetables |
Make a schedule of your own, pop in your favorite recipes, and change it up as needed. Once you have a starting point your weekly dinner meals will go much smoother!
There's nothing better than coming home after a long day to find a freezer full of fresh meals that just need to be heated! And the best part is that you know exactly what is in them because you made them yourself!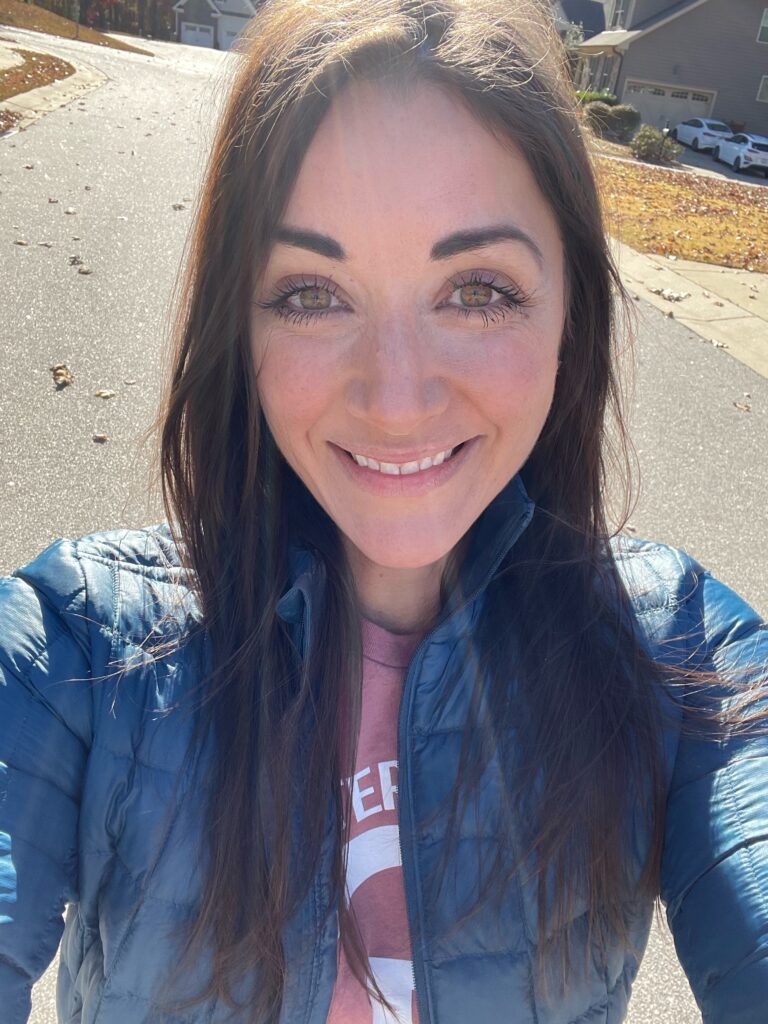 Hello & Welcome!!
I'm Melanie.
I'm a chef, registered dietitian, foodie, wife and mom.
If you're looking for quick and healthy meal inspiration that supports your health goals while feeding the rest of your family (including the kiddoes) well, then you've come to the right place!