Is the viral Tik Tok Coconut Blue Cloud Smoothie from Erewhon healthy?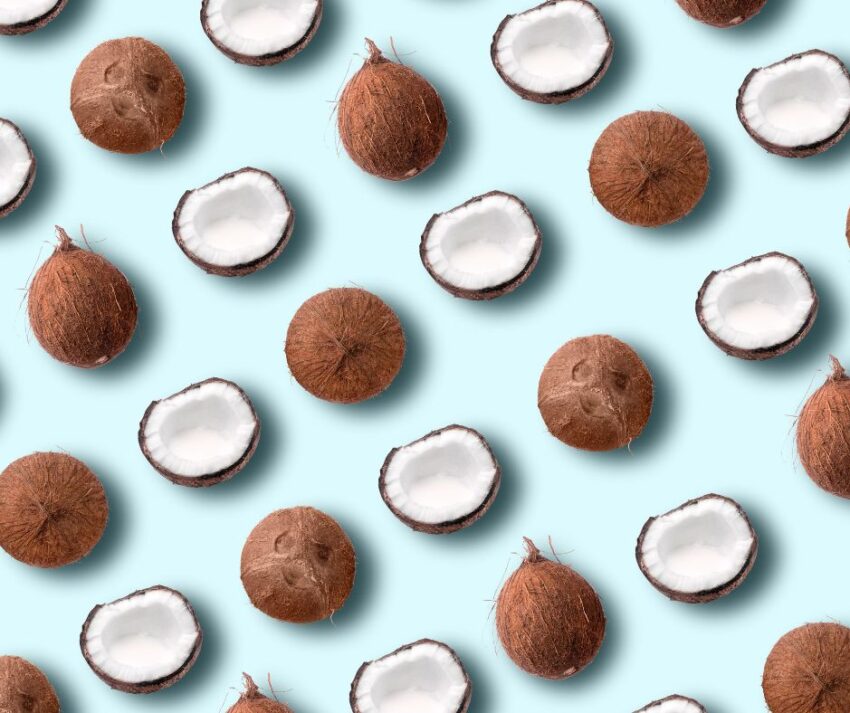 I recently learned about the viral Tik Tok drink – coconut cloud smoothie. It's a famous blue smoothie that has been described as having an unmistakable beautiful cerulean marble color and a lot of trending ingredients. (That description reminds me of "The Devil Wears Prada")! The original recipe was created by influencer Marianna Hewitt and was featured at Erewhon grocery store during the month of March 2022. Did I mention that it costs $17.00?
The original Erewhon coconut cloud smoothie is made with Malk almond milk, vanilla collagen peptides, banana, pineapple, avocado, a can of coconut milk, blue Majik Spirulina, vanilla stevia, and almond butter. While all of these ingredients on their own bring a variety of health benefits and offer a lot to love, just one serving easily has over 600 calories and over 20g fat, most of which is saturated and above the recommended daily values. That said, it is beautiful and certainly makes you feel special while drinking it, so with a few tweaks, I made a version using Dole bananas and pineapples and truth be told – I'd be happy to drink daily!
Jump to Recipe
I am the registered dietitian for Dole Food Company and Dole generously covered the cost of ingredients for this recipe.
Here's what you need to make a healthier version of the Erewhon recipe for a fraction of the price!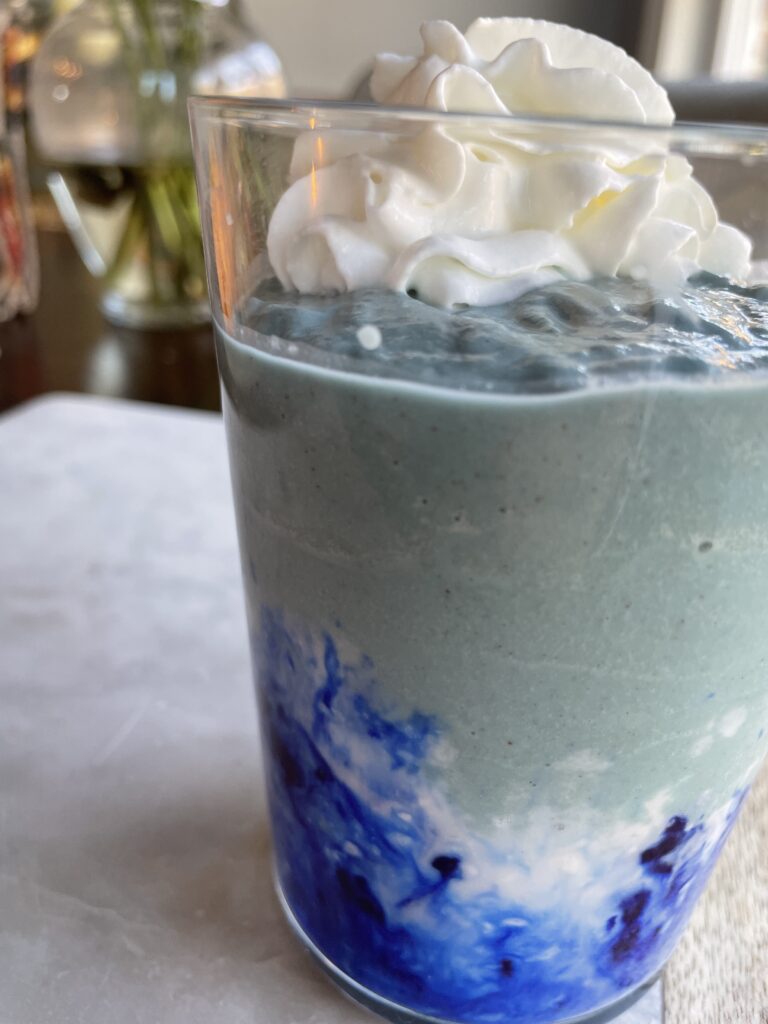 Coconut cream – we'll use the decadent coconut cream, and whip it before adding to the glass – but we won't use as much.
Blue spirulina – this was pricey, but makes that signature blue color, so it just can't be done without it.
Almond milk – you can you any kind of almond milk that you like.
Banana – I recommend using a frozen banana for this
Pineapple – we will use frozen here also!
Vanilla stevia – for natural sweetness.
Vanilla extract – for extra vanilla flavor.
Collagen peptides – these add a bit of protein as well as a really cool frothy light texture.
I found all of the ingredients I needed at my local Whole Foods Market, but you could also get what you need from your local grocery store plus a 1-2 items from Amazon.
Jump to Recipe
Here's the trick to beautiful marbling
First whip you coconut cream well with a whisk or fork – this gives a creamier consistency. Then layer half on the bottom of the cup.
Next take 1/4 tsp of the spirulina powder, the most important ingredient, and sprinkle it on top of the coconut cream as well as the sides of the glass.
Then mix the rest of the ingredients in a high powered blender or Vitamix until light and fluffy.
Now pour the smoothie mixture into the prepared glass.
Top with remaining coconut cream.
The dietitian review
I've heard the Erewhon smoothie described as full of healthy fats. Which isn't exactly true. While many coconut products are enjoying a health halo right now, it doesn't change the fact that it has a significant amount saturated fat, or that the original recipe uses a hefty amount of coconut cream which is solid at room temperature, and not encouraged as part of a heart healthy diet. I'm glad I tried to make it, but I would not make the original version on a regular basis because it just has too many calories, overall fat and carbs. It's just A LOT.
That said, I invested in purchasing the blue spirulina powder and came up with a version of this smoothie that I can make weekly. It really is beautiful and why not enjoy how the smoothie looks as you drink it?!
I also made a version for low carb day that you can find on my instagram @miss_nutritious_eats.
What is spirulina?
Spirulina is a type of algea, and can be either blue or green. Ancient Aztecs actually harvested it from ponds and incorporated it into baked goods in their diet. You can find it in a variety of forms, but I think powdered is the most popular. Believe it or not, it's an excellent source of protein, and a variety of nutrients including B vitamins, iron, manganese, potassium and a good source of vitamins C, E, K and folate! And if you're wondering, it is vegan!
Studies have suggested that spirulina has beneficial effects on blood cholesterol, triglycerides and blood pressure. It also has cancer protective antioxidant and anti-inflammatory properties.1
5 ways to use spirulina
In addition to adding to your favorite smoothie try:
blend into yogurt
add to oatmeal or millet
add to cookies or cake batter
add to your salad dressing
mix into hummus or guacamole
So is it worth it?
If I were able to order one, just to try it, I would! But it would definitely be a splurge item for my wallet and my diet -> that is FOR SURE! There's nothing wrong with indulging in foods every once in a while, just remember the 80/20 rule. And if you want an indulgent blue smoothie, try this version!
You may also like to try the DIY Pumpkin Spice Dole Whip! It's another major winner!!
Nutrition
Take a look at those vitamin and mineral values! So many of them are more than 10 or 20% which are benchmarks for good and excellent sources! Let's just call out a few.
Vitamin A – This smoothie provides 590% of the daily value (DV)! Vitamin A supports healthy vision, gene expression, reproduction, growth and immunity! It can be found in both animal and plant sources, but those from plant sources must be converted in order to use them!
Vitamin B6 – You'll get 30% DV with this drink! It plays a really big role in the body because it's necessary for enzymes to perform their functions which includes releasing stored energy (in the form of glycogen) from muscles. As we get older, it can be difficult to get the recommended amount of B6, which is usually found in tuna, salmon, turkey breast, bananas, sweet potatoes and chickpeas.
Vitamin C – This smoothie sets you up with 50% DV of C. which aids iron absorption, supports collagen formation in the body and strengthens immunity. Many Americans are consuming the recommended amount of C. Cerries, bell peppers, kiwi, broccoli, Brussels, papaya, strawberries and pineapple are top sources!
Manganese – This trace mineral helps activate powerful antioxidant enzymes into action! It helps convert fat to energy and support cartilage and bone formation. Sources to include are oats, pine nuts, brown rice, spinach, pineapple and raspberries among others!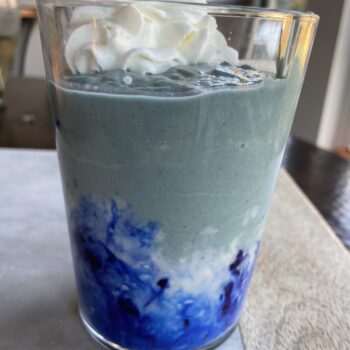 Lightened Up Coconut Blue Cloud Smoothie
Check out this lightened up version of the Erewhon and viral Tik Tok smoothie!
Ingredients
2

tbsp

coconut cream

canned

3/4

tsp

blue spirulina

powdered

2/3

cup

unsweetened almond milk

1

banana

frozen

1/4

cup

pineapple

frozen

5

drops

vanilla stevia

1/2

tsp

vanilla extract

2

scoops

collagen powder

coco whip

optional
Instructions
Add coconut cram to serving glass and sprinkle with 1/4 tsp spirulina.

Add remaining ingredients to blender and blend until smooth.

Pour smoothie into prepared glass. Top with coco whip if desired!
Notes
This recipe keeps the coconut cream from the viral original but eliminates the fat from the almond butter and avocado.
References
Tonia Reinhard, Super Foods. (Firefly Books, 2014).