23 Healthy Halloween Recipes Plus Activities that Kids will LOVE!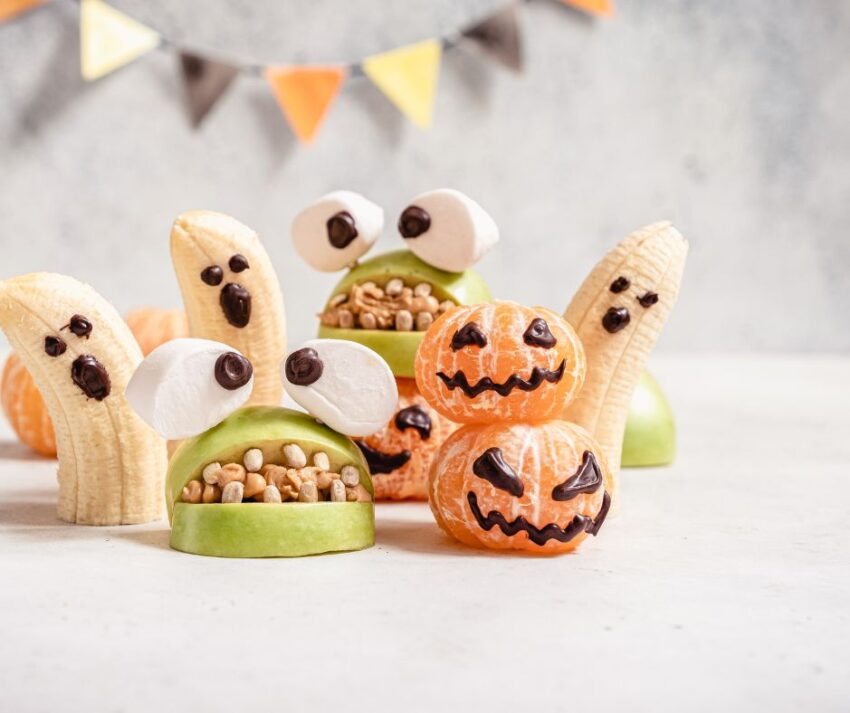 Move over huge bags of sugary candy, festive fun is more important than ever!!
Can the words healthy and Halloween really belong in the same sentence? According to research published in the Journal of the American Medical Association, they should! Healthy options are now more than ever! This research found that childhood obesity rose significantly during the pandemic, especially in children 5-11 years old. Whether the weight gain was a result of food choices or children being more sedentary, the gain was about 5 pounds which equals the weight increase from the past 20 years! This perfect storm of ready to eat and junk foods, meal fatigue and lack of activity during quarantine makes the focus on healthy holiday celebrations much more important this year.
This article has been adapted from an article originally written for Dole Food Company.
While candy is a focal point for most kids, Halloween truly has a lot more to offer children — spooky costumes, magical activities and the opportunity to incorporate festive meals throughout the day.
Celebrating the holiday season is not about taking any of that away, it's about enhancing the Halloween experience while pumping up the nutrition in a fun way.

Melanie Marcus MA RD
And truthfully, with a little creativity, healthy Halloween snacks are sooo simple to make and they deliver a huge payoff because you kids won't have sugar overload, or the inevitable crash afterwards!
Read on for healthy Halloween recipes and activities to enjoy the holiday in a healthy way.
Here are 23 recipes for the whole family to enjoy – without the added sugar!
Start your day with a breakfast that any monster would enjoy! These Mike Wazowski Fruit Stack served with yogurt are balanced and super fun!! My kids LOVED them!!
Lunch time can be fun too!! Turn any sandwich into a spider sandwich with this trick – Cut your favorite sandwich into a circle using a large cookie cutter. Lay pretzel sticks between layers (4 on each side) to resemble spider legs! Use olives to create spider eyes on top!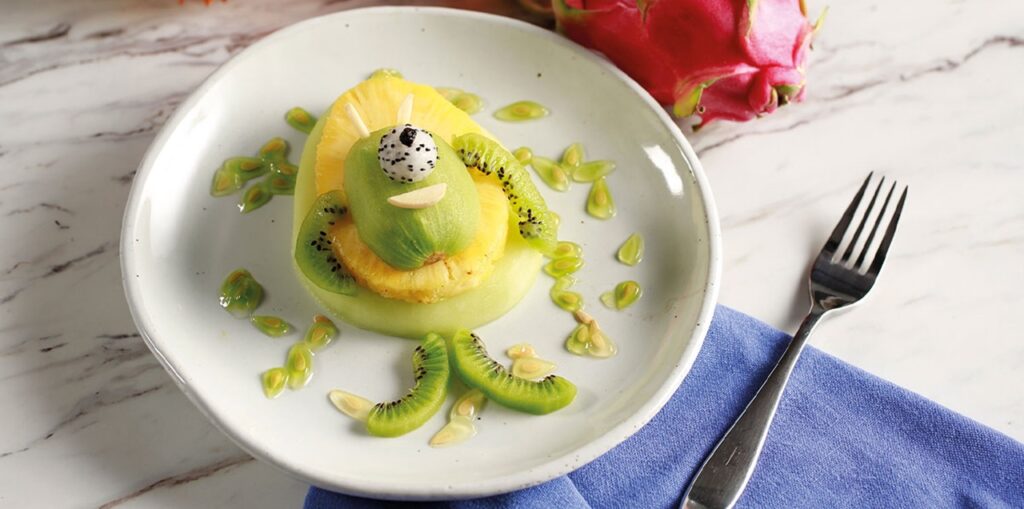 Another lunch alternative are these super cute Chicken Stuffed Roz Heads from Monsters Inc!
Jazz up dinner with Pumpkin Stuffed Peppers. Turn your favorite stuffed pepper recipe into a jack o lantern of a meal by cutting out eyes and a mouth in your bell peppers before stuffing and baking!
Try this Witchy Dip for a fun halloween snack! Turn Dole avocadoes into a spooky delight by serving homemade guacamole in a shallow oval bowl. Top half the dish with blue corn chips to form a witch's hat. Then add shredded carrots for witch's hair, a mini pickle for a nose, olives for eyes and red pepper for a mouth!
A creative way to serve energy bites is to turn them into Bat Energy Bites! Take your go-to energy bite recipe and add two candy eyes, plus broken blue corn tortillas for wings for a festive treat!
A go-to healthy snack are banana ghosts. Simply cut your peeled banana in half. Roll in yogurt and unsweetened coconut flakes then use mini chocolate chips for eyes and enjoy!
Another banana based favorite are banana mummies! Wrap your banana in fruit leather and add candy eyes for a mummerific snack!
If you're little one loves PB&J, try making Dole Crazy Eyes. Start by thinly slice a baguette into ovals and spread with peanut butter. Top with a single banana slice and blueberry and use raspberry jam to create squiggly red lines coming out of the banana.
A great way to get kids to eat their greens is by making Franken-smoothies! Take any green smoothie recipe and pour into a clear plastic glass that has been decorated to look like Frankenstien. So simple and so easy!!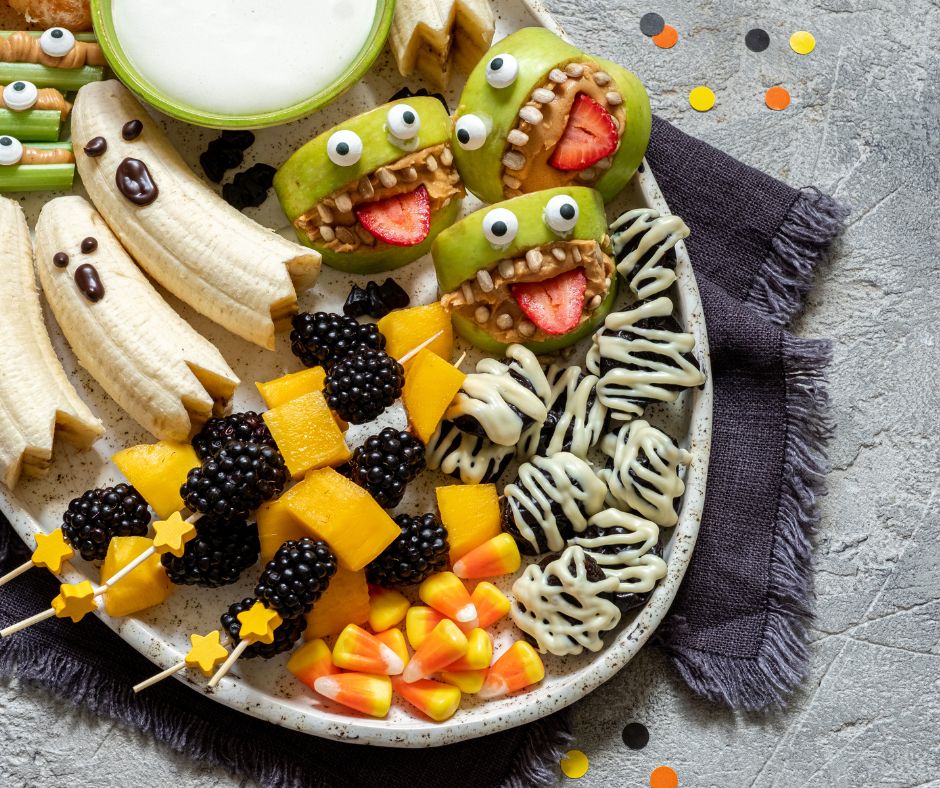 Another simple and fun snack are strawberry ghosts! Just take white chocolate and microwave at 10 second intervals (stirring in between) until soft. Then drizzle horizontally across your strawberries, finishing off with candy eyes! You can also use any other melted chocolate or dark chocolate that you like!
Party guests will love candy corn parfaits. Just take small drink cups or clear cocktail cups and layer diced papaya followed with diced fresh pineapple and topped with your favorite cool whip, whipped cream or even vanilla greek yogurt for a protein packed version! Totally festive and easy! Try them at your next school party!
Make Monster Mouthes with apple slices for lips, slivered almonds and marshmallows for teeth and strawberries for tongues! Super fun!!
Another easy school snack are clementine pumpkins! You can leave them whole and use a black food marker to draw pumpkin faces. Go all the way by slicing small celery sticks to insert in the top for a stem!
If you love cozy pumpkin spice flavor, you have to try Pumpkin Spice Sweet Potato Dole Whip! It's autumn in a bowl 🙂
Or check out this Witching Hour Fro Whip inspired by everyone's favorite Sanderson sisters!
I recently saw a dietitian create witches fingers out of Moondrop grapes which I thought was so cool. The grapes are naturally the shape of fingers and when you add an almond sliver for a nail, it couldn't be more realistic!!
Little witches brooms are simple to make with mozzarella string cheese! Cut the string cheese into 3 equal sized pieces and cut slices length wise about 2/3 of the way across each piece to make the bristles of the broom. Then insert a thin pretzel rod into the cheese!
How about serving hummus in the shape of a pumpkin! To make "pumpkin" hummus, just take your knife or spoon to create a pumpkin shape and then top with a celery stick or cucumber log for a stem!
Another perfect way to get kids to way their veggies are with Green Slimesicles. Popsicles made with fruit and veg to give green slime a whole new meaning.
Create a Halloween veggie skeleton! This one is easy- just use your imagination to create a skeleton with fresh cut vegetables! The sky is the limit! Use
Serve up your greens with these intimidating Meanies! The concept will feature your favorite salad in classic Halloween style, and they'll add flair to your table scape too!
Wash everything down with a deliciously scary mocktail! These Sparkling Ghouls are complete with cranberry blood!!! eek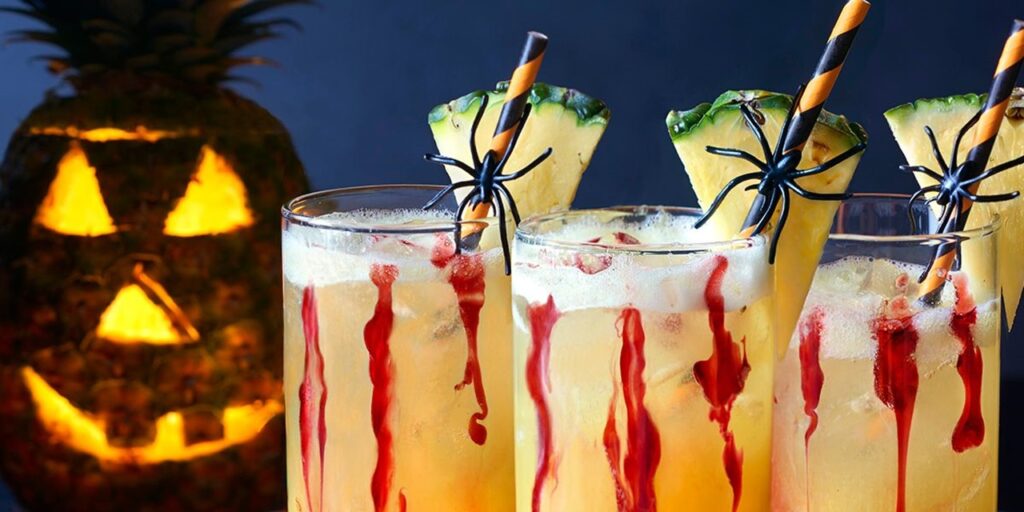 What to stock up on to make Halloween snacks a breeze
Toothpicks
Candy Eyes
Chocolate in various colors
Parchment Paper
Mini chocolate Chips
Mini marshmallows
Slivered Almonds
Black food marker
Clear plastic cups
Straws
Make a Halloween Pineapple Jack-o-lantern!
Nothing says Halloween fun like jack o' lanterns!! But instead of using a pumpkin, why not use a pineapple! You can eat the inside and then create a fresh fruit centerpiece that everyone will be talking about!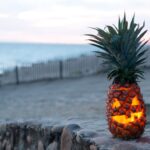 Print
Pineapple Jack O Lantern
Carve a festive centerpiece for your Halloween season!
Equipment
1 Pineapple

5" wide and 7" tall

1 serrated knife

1 spoon

1 cutting board

1 pineapple corer

optional
Instructions
Cut the bottom of the pineapple off using the serrated knife, then cut around the inside edge of the pineapple, keeping the walls of the pineapple about 1" thick for support.

Use the knife and spoon to remove the pineapple flesh, including the core, until nice and clean. Place the pineapple flesh in a bowl to eat.

Using the serrrated knife, carefully cut out your face!

Place the finished pineapple on a plate and enjoy the look and taste of your creation!

when it gets dark, place a lit LED candle on the plate under the pineapple Jack-O-Lantern
October is truly an exciting time of year, and if you think about it's more like a full blown Halloween season, it's not just one meal or afternoon of sweet treats anymore. There are neighborhood Halloween parties, festive school lunches to make, halloween class parties, annual parades, and costume contests that make for the perfect opportunity to enjoy healthy treats. There will be plenty of sweets to enjoy, but be sure to offer healthier options too!