Healthy Travel Snacks for the Ultimate Trip- stress free by plane, train or on the road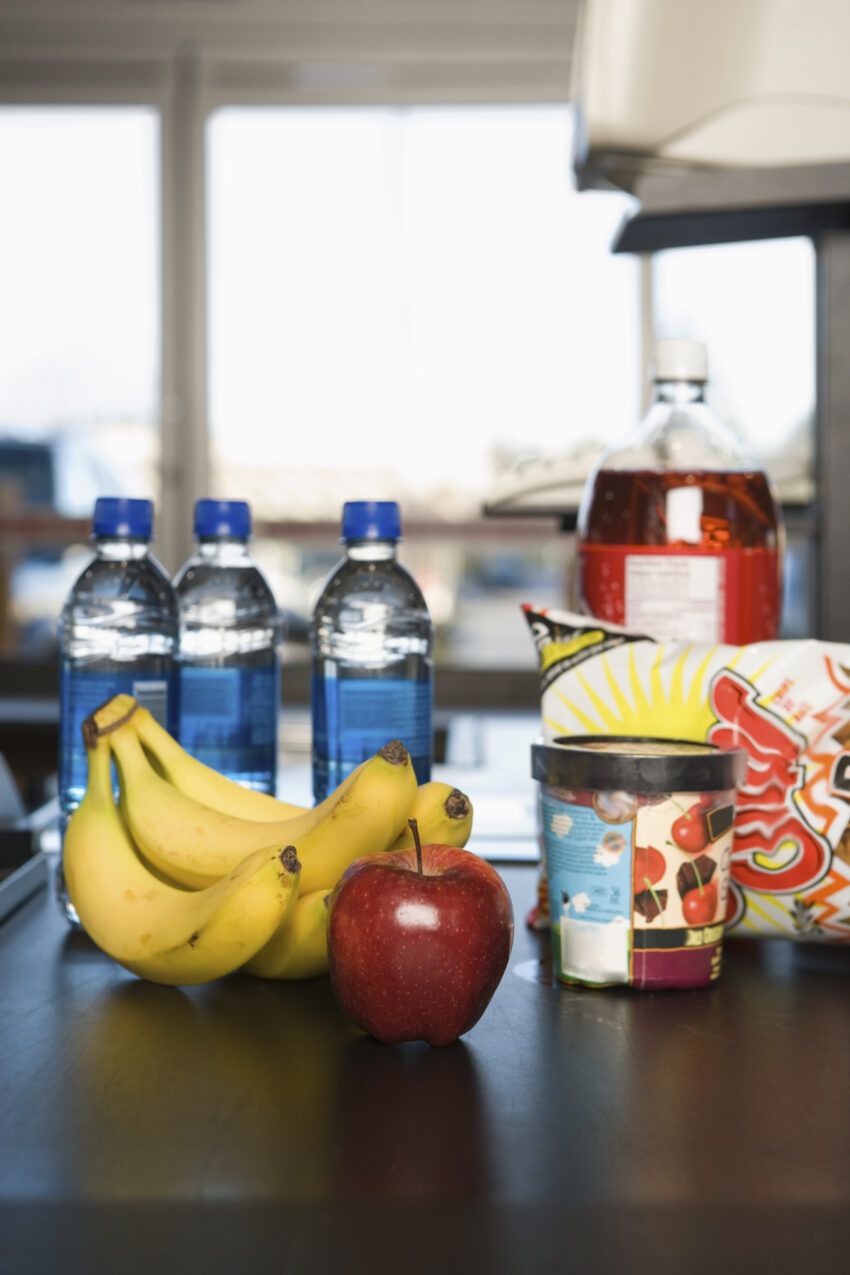 If you are planning a vacation or getaway you'll probably find yourself in an airport. But between organizing the travel arrangements and packing your bags (and potentially your loved ones) for the journey, healthy foods that will travel well may not be top of mind – but they should be!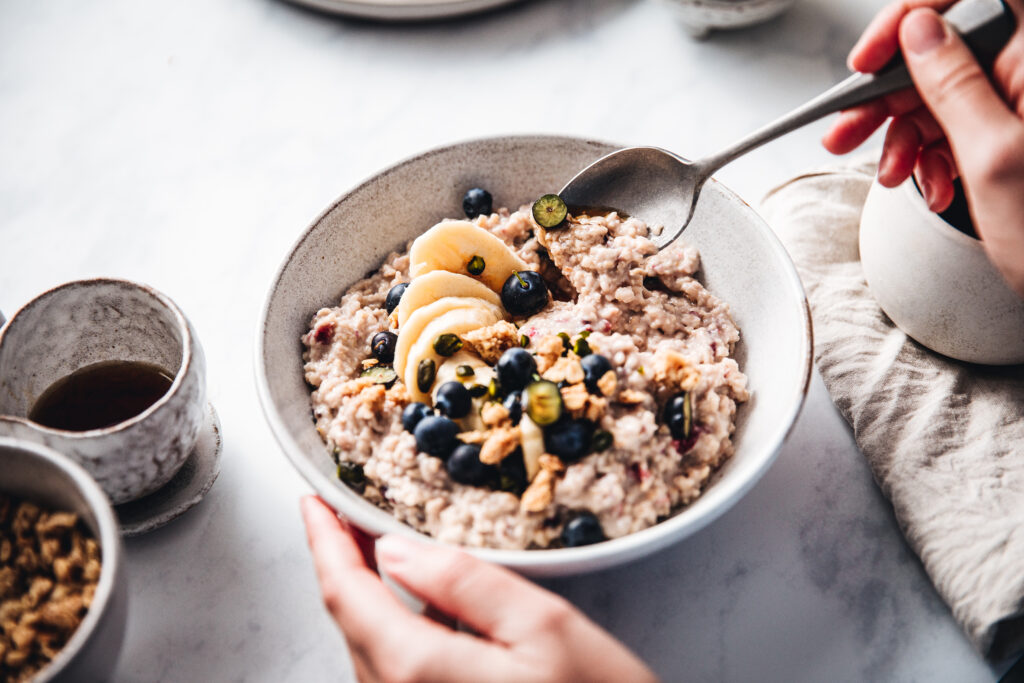 The truth is, travel, as exciting and romantic as it is, can also be unpredictable at best. Between delays and keeping track of luggage, navigating the crowds and passing through security checkpoints on time, a wholesome snack may be what you need to keep you satisfied, energized and away from processed snacks like chips and candy bars. As a rule of thumb, best nutrition-packed travel snacks are minimally processed whole foods.
DIETITIAN'S TIP: Satisfying meals and snacks should incorporate lean protein, nourishing carbohydrates (such as those from fruits, veggies and whole grains). Fats usually make their way into the diet without us thinking too much about them. Healthy travel snacks in particular should be high in fiber and lower in sugar.
This article was modified (to add some of my personal favorites) from it's original version published by Dole Food Company.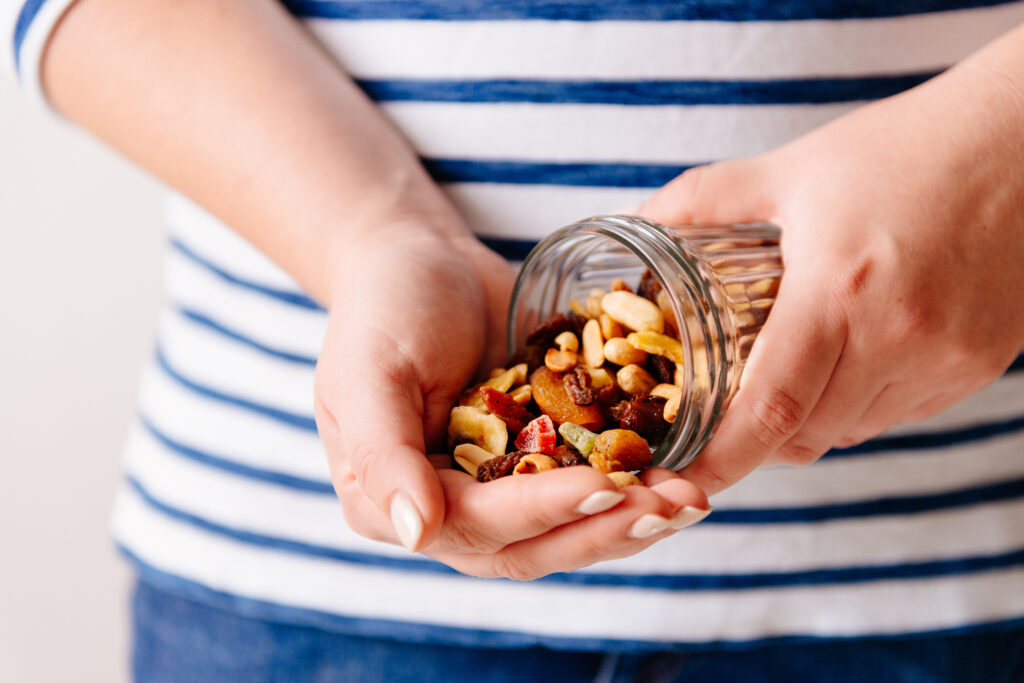 Here are a few healthy travel snacks to pack for your next trip:
Oatmeal packets – whole grain, high fiber and can easily be combined with hot water whether you are on a plane, at a rest stop or in your hotel room. I like the whole grain unsweetened packets from Trader Joes.
Dried fruit – familiar to hikers as a premier source of natural carbohydrates in a small package, they are super-easy to pack and don't require refrigeration. Whatever you do, be sure to check the ingredients list to ensure that the only ingredient is dried fruit – beware of added sugar. You could also make your own version of fruit leather ahead of your trip if you're feeling fancy.
Nuts, Jerky and Boiled Eggs – protein, protein, protein! Portable and satisfying especially when paired with your favorite carb! I like to boil a few eggs ahead of the trip.
Bananas, Apples, Oranges or any other whole fruit travels well, no refrigeration required. They're also an added source of much needed hydration during air travel! Be sure to drink enough fluids too!
Veggies such as carrot sticks and celery can be paired with individually portioned hummus or nut butter for a balanced bite. Go for pre-portioned sealed containers to make it through security with ease.
Dry cereal is another versatile whole grain option that travels well, is kid friendly and comes in a a variety of flavors. Just watch out for added sugar!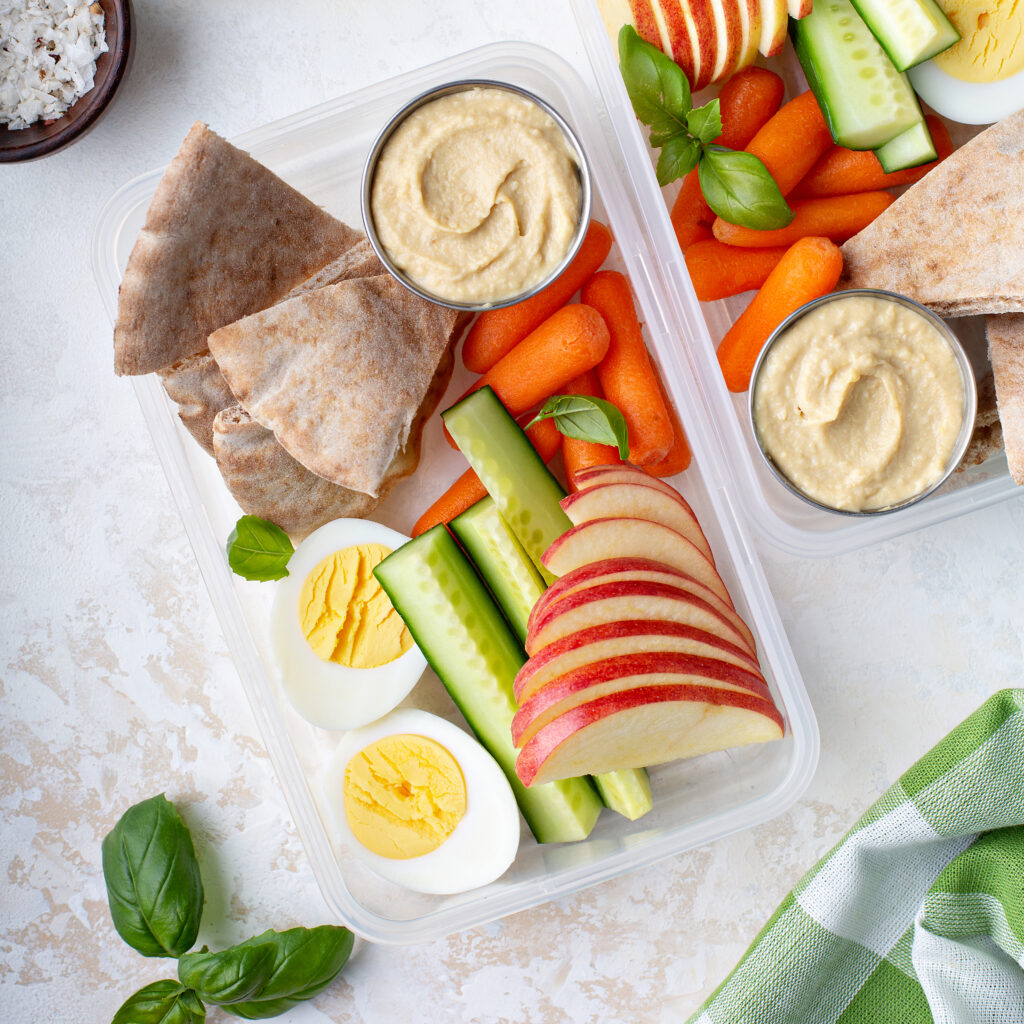 If you have the ability to keep your food cold, or are traveling less than two hours, consider making:
A quick sandwich or wrap
Turkey and avocado or cheese roll-ups
Roll a banana, peanut butter with some flax or chia in a whole grain wrap for a filling plant-based wholesome snack.
When all else fails – here are my airport GO-TOs for healthy travel snacks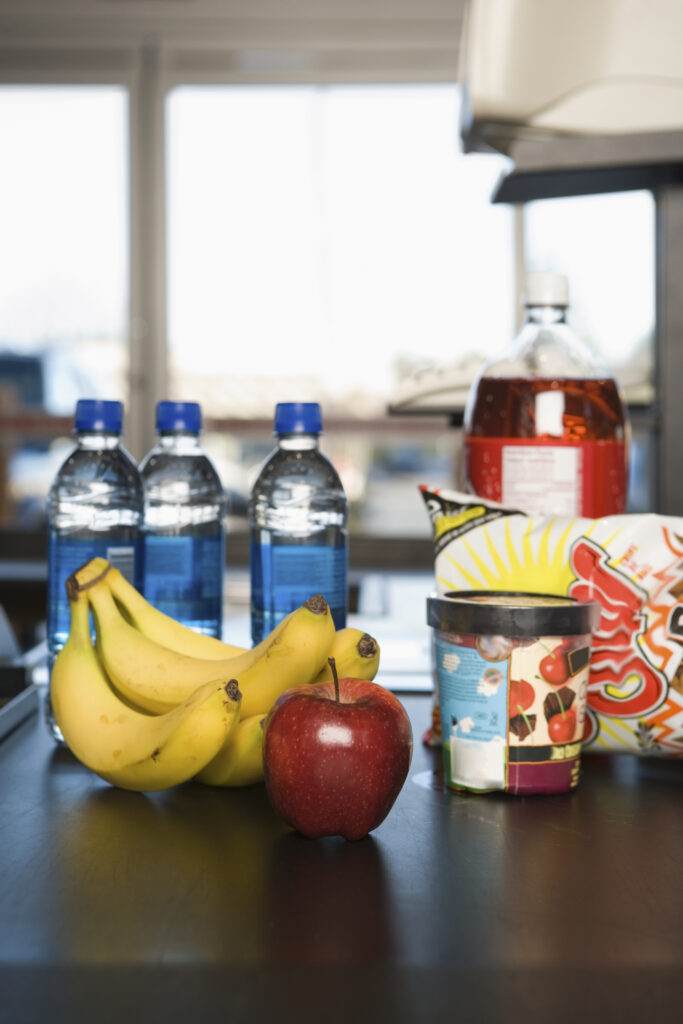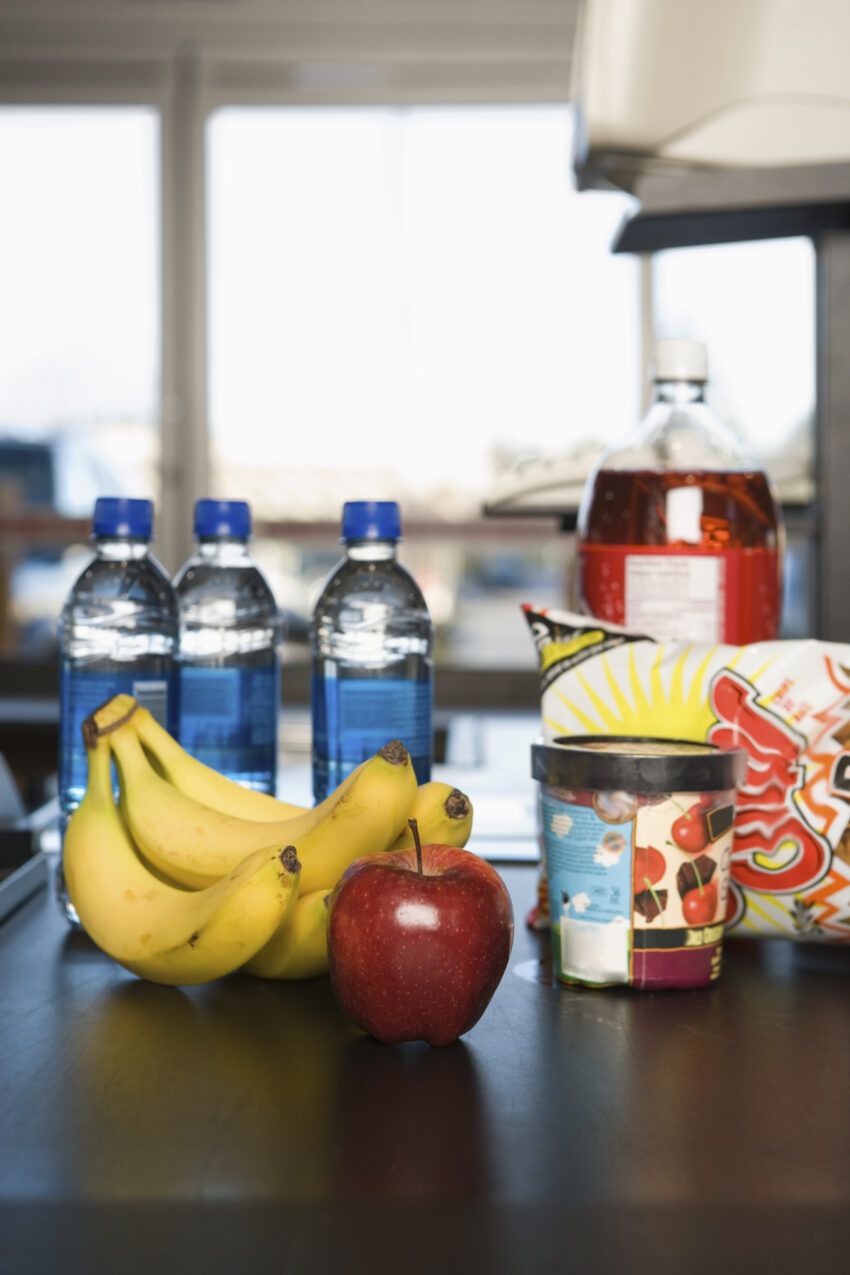 Beef Jerky
Apple slices
Unsalted almonds or mixed nuts
Sabra hummus and pretzels
Peanut butter and apples
Dried fruit
Fresh fruit
Yogurt parfait
Applesauce cups
String cheese
Hard boiled eggs
Quest bars
Popcorn
Guacamole and chips
Electrolyte Water
Vitamin Water Unsweetened
Sparkling Water
These are my personal go-to's for travel but MAJOR BONUS – they also work for the kids! What are your must have healthy travel snacks?