Easily make Pancakes for a crowd with your sheet pan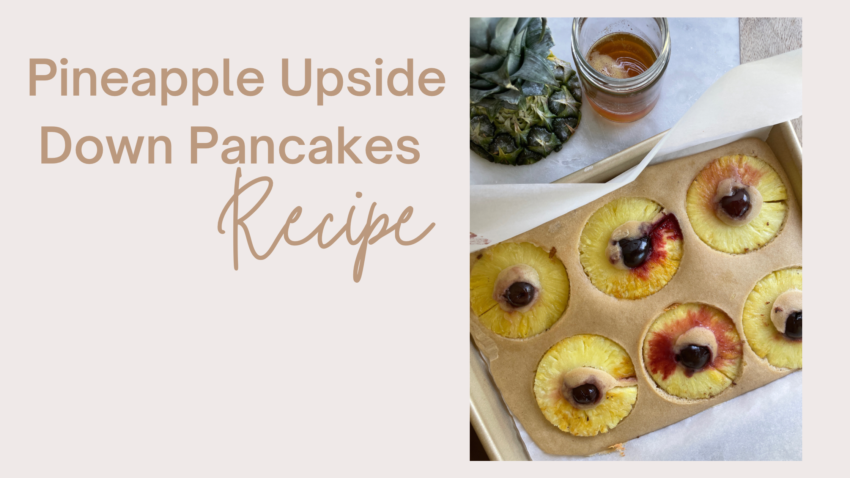 There's nothing more welcoming than traditional pancakes for breakfast – especially when you have guests. But let's be honest, have you actually tried making individual pancakes for a crowd? It can be hectic. After trying this method, I'll never make pancakes one-by-one for a large crowd again! With just your trusty sheet pan and a few simple ingredients, you can easily make delicious pancakes for an entire family or party. Forget standing in front of the hot griddle flipping endless numbers of pancakes. Instead batch cook with your baking sheet and oven to make one giant pancake in a fraction of the time. Keep reading to find out how easy it is to make this classic breakfast favorite with minimal fuss. Plus I'll show you how to take the toppings up a notch. Still healthy- but they're dessert level. Check out this quick reel for a visual.
Add this to your list of easy breakfast ideas. You're welcome 🙂
Jump to Recipe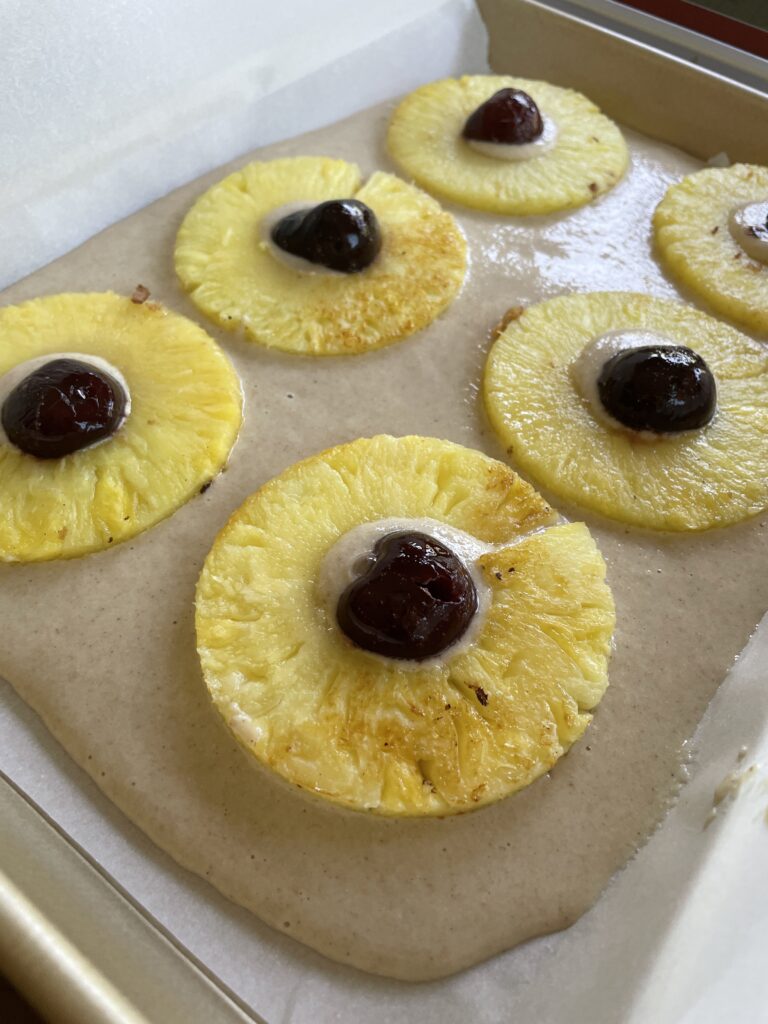 Ingredients you need for easy sheet pan pancakes
Your favorite box mix of pancakes. I love the Buttermilk Kodiac pancake mix because it tastes great with the bonus of being whole grain and a good source of protein.
Toppings – Today I'm sharing a pineapple upside down cake version so we're using fresh pineapple rings and frozen cherries, with a sauce made from maple syrup, pineapple juice and vanilla extract. Scroll down for other different flavors and combinations.
Neutral cooking spray
Tools you need for this easy recipe
Sheet pan – I have used a 1/4 sheet pan or a 1/2 sheet pan. Just depends on how large your batch of pancakes will be, as well as the size of your oven.
Parchment paper for easy removal.
My favorite toppings for pancake batter
Everyones favorites chocolate chips
Drizzle peanut butter and sliced bananas
Lemon zest and fresh blueberries
Sliced bananas and toasted walnuts
Raspberries and white chocolate
Thinly sliced apples and cinnamon
Sliced fresh, canned or frozen peaches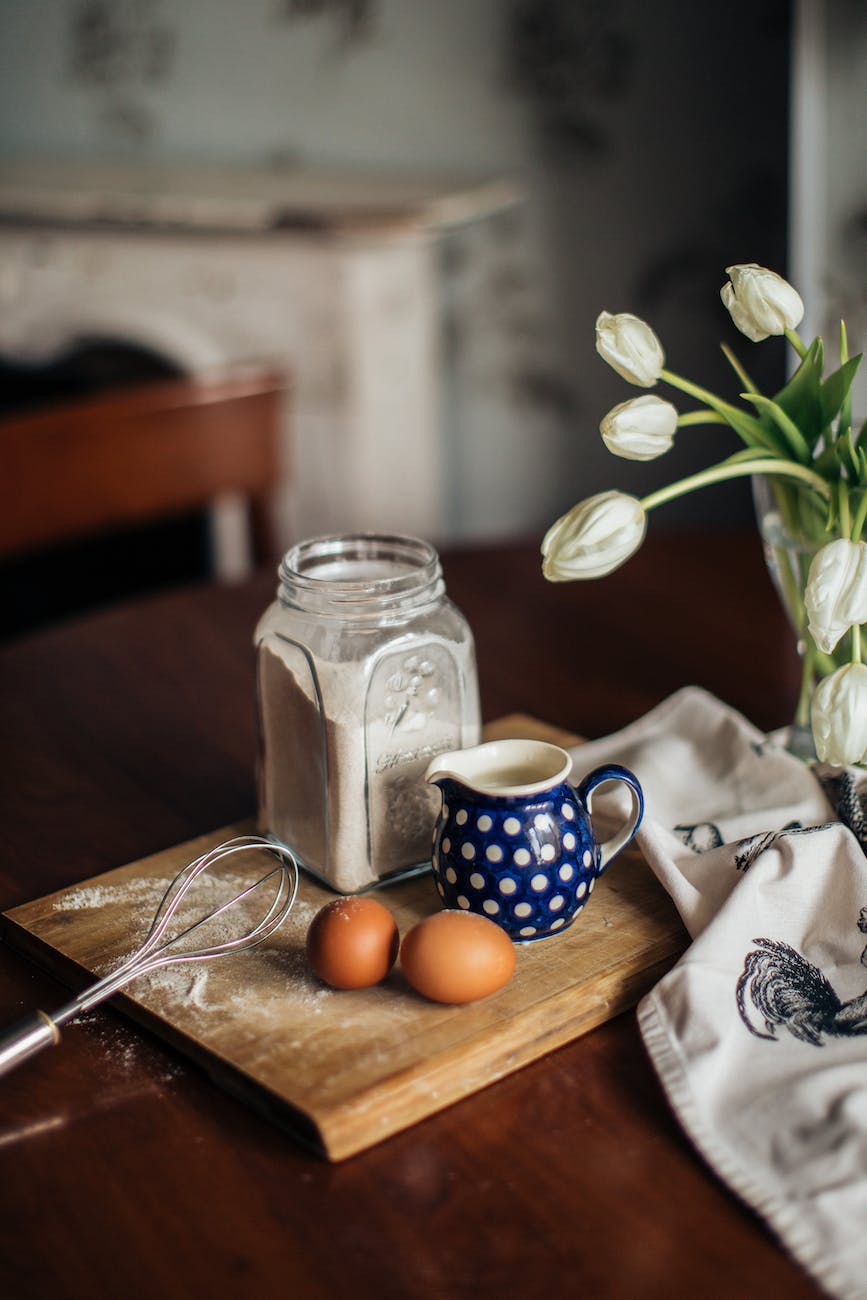 Once they're cooked you can top with vanilla yogurt, warm maple syrup, berry compote or powdered sugar. Whether you serve with fresh fruit, eggs, sausage or bacon, it'll be a tasty breakfast for everyone.
Jump to Recipe
Tips for how to make these oven-baked pancakes
Make sure the oven is hot. Preheat 400 degree F oven. They need about 11minutes to turn golden brown.
In a large mixing bowl combine all of the dry ingredients, and add the wet. Don't over mix.
Prepare your pan with nonstick spray AND line with parchment paper. This will ensure your tasty pancakes make it out of the pan without a hitch.
Use a sharp serrated knife or a pizza cutter to cut your pancakes into enough servings for the whole family.
Use a thin, wide spatula to get them out of the pan. I love using my fish spatula for this, it's the easiest way.
Any pancake recipe will work for this. Just be sure to pour batter down the center of the pan and use a rubber spatula to spread it evenly towards the four corners of the pan.
Have your different toppings ready. You can even accommodate a few different combinations if you need to! Just have everything cut up and ready.
If you have leftover pancakes, store them in an airtight container and reheat in the toaster oven. My picky eaters loved these pancakes so much, they asked to have them for dessert with a bit of whipped cream 🙂
Calorie Information
Makes 6 servings
Calories 85
Fat 1 gram
Protein 5 grams
Carbohydrate 15 grams
Fiber 2 grams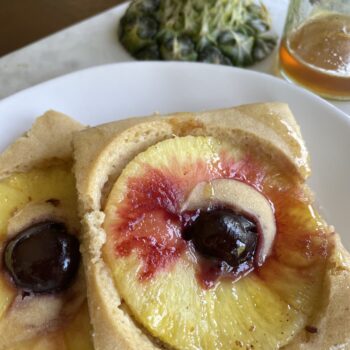 Pineapple Pancakes
Equipment
1 Sheetpan

parchment paper
Ingredients
1

cup

Kodiak Pancake Mix

6

slices

Fresh Pineapple

6

each

Frozen Cherries

water

cooking spray
Instructions
Combine pancake mix and water according to package directions

Spread batter onto prepared pan, lined with parchment and sprayed.

Top with pineapple rings and cherries.

Bake at 400F, for 11 minutes or until cooked through.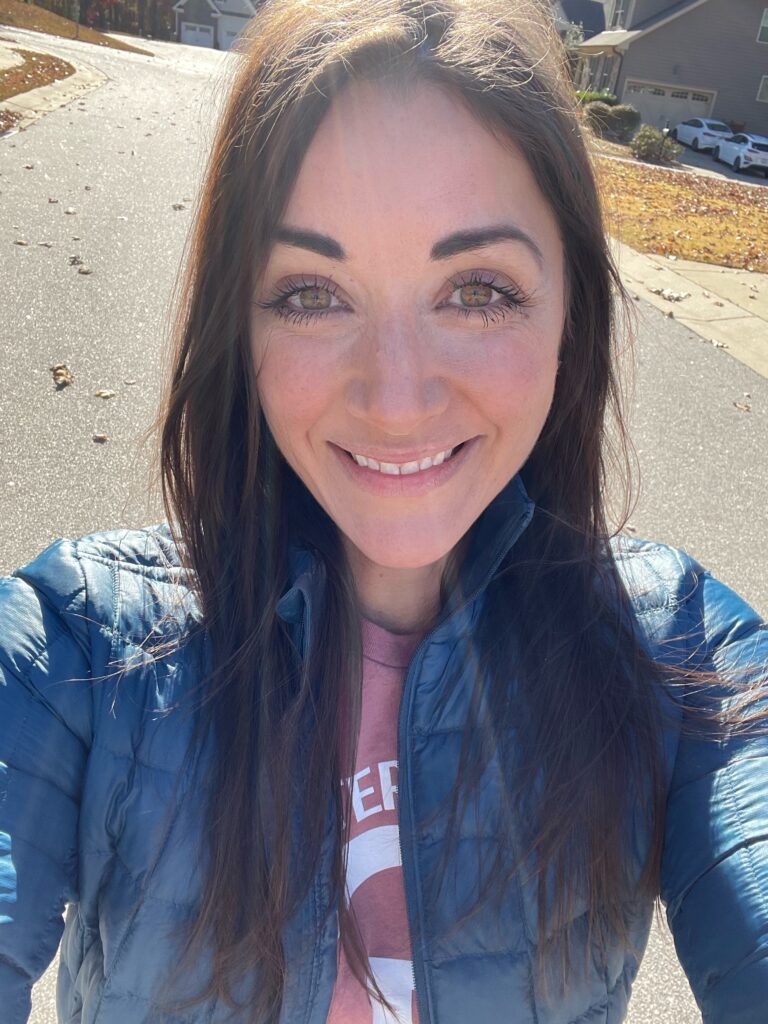 Hello & Welcome!!
I'm Melanie.
I'm a chef, registered dietitian, foodie, wife and mom.
If you're looking for quick and healthy meal inspiration that supports your health goals while feeding the rest of your family (including the kiddoes) well, then you've come to the right place!