The secret to making viral Cottage Cheese "Protein" Ice Cream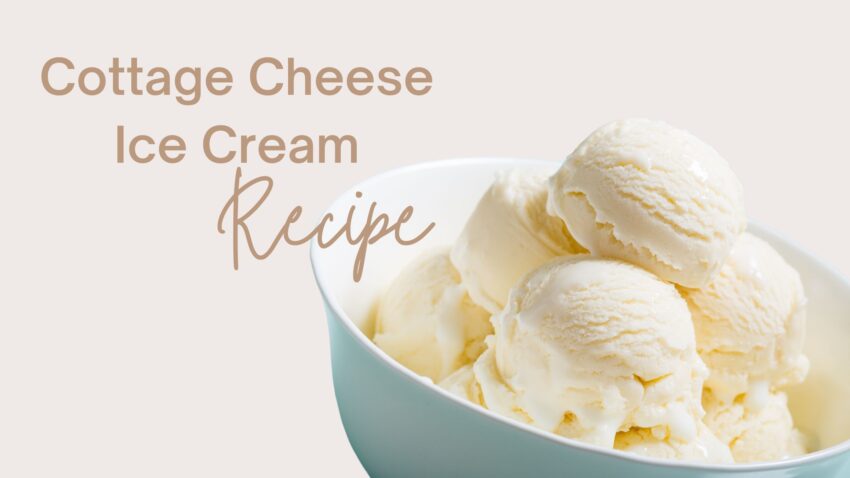 Who doesn't like ice cream? Traditional ice cream is my favorite dessert. Whether it's a Carvel ice cream cake for birthdays, or soft serve ice cream on a summer day, I am here for it. Wouldn't it be better if it helped you reach your health goals? As much as I love a traditional ice cream cone, if I'm honest, eating one daily is probably not going to get me to where I want to be. So when one of my girlfriends called me to ask my thoughts on TikTok's viral cottage cheese "protein" ice cream, I had to try it! Watch here!
After making it a few times, I have one major takeaway. This recipe can go downhill fast with just one mistake – over freezing. It will make your ice cream so darn hard and icy, you'll just want to toss it. But don't worry, I have a few tips to avoid that frustration.
Jump to Recipe
What is cottage cheese ice cream?
It is whipped cottage cheese that is combined with flavor pairings like vanilla and strawberry to make a creamy and delicious treat! The beauty is that you can make it with just about anything, as long as you have cottage cheese. When it is whipped, it takes on the consistency and flavor of softened cream cheese, which makes it a fantastic base for just about any flavor combination you like. It's such a versatile ingredient and a very simple recipe!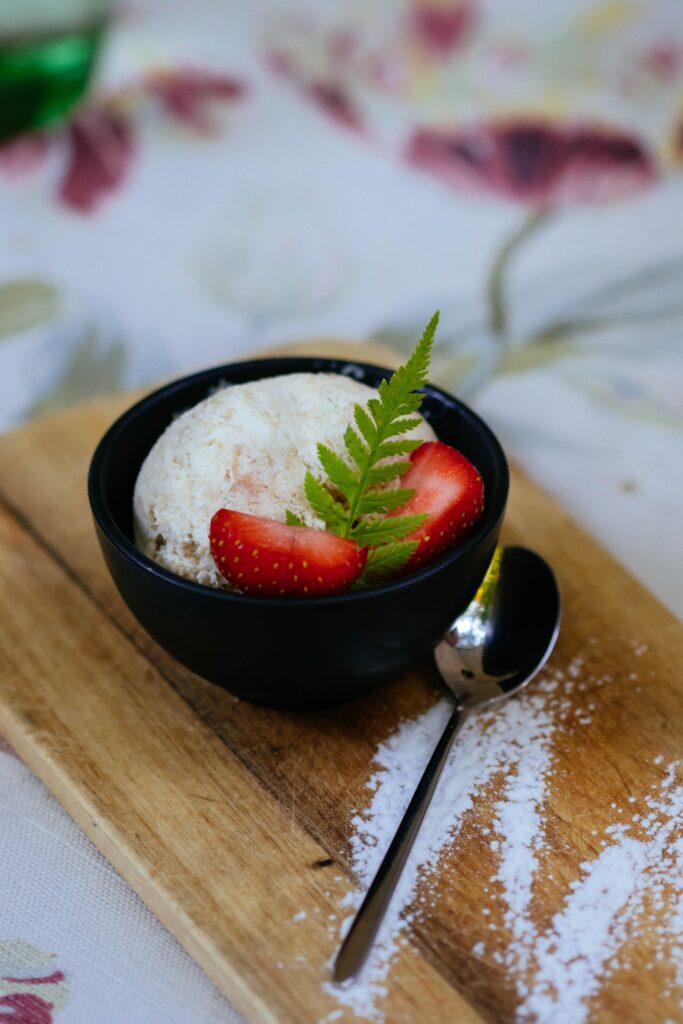 Is cottage cheese ice cream a good source of protein?
One serving of 2% fat cottage cheese is ½ cup or 4 ounces and contains 90 calories, 12 grams of protein, 3 grams of fat, and 350 milligrams of sodium. It's an excellent source of protein providing the equivalent of three ounces of protein per cup.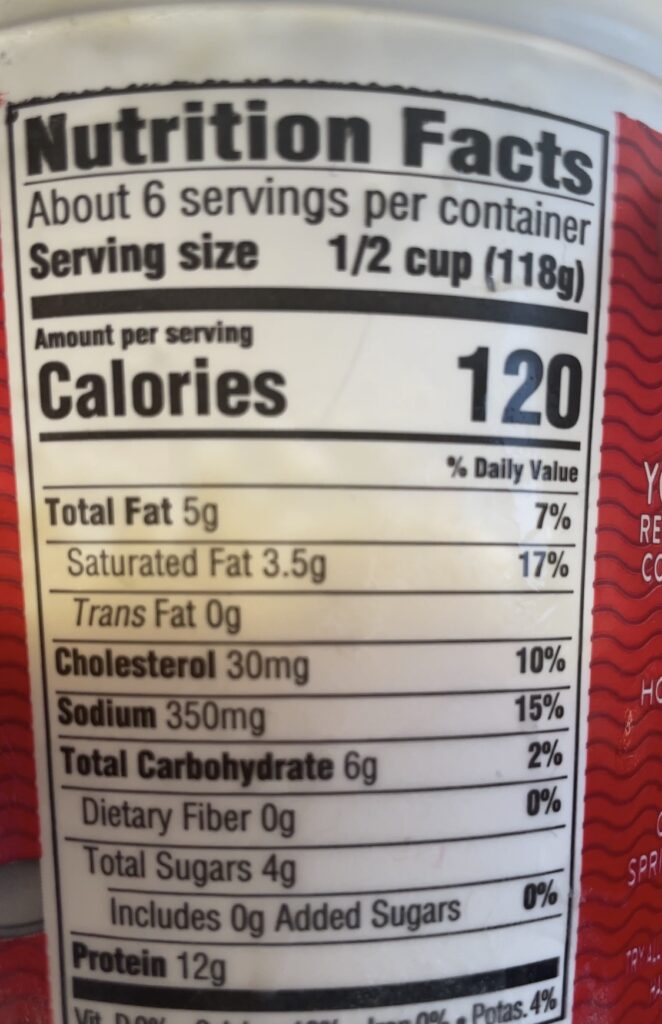 For reference, 1/2 cup of 4% milkfat cottage cheese has 120 calories, 12 grams protein, 5 grams fat, 3.5grams saturated fat and the same 350 milligrams of sodium.
One ounce of protein provides 7 grams of protein, which means a half cup of cottage cheese provides the equivalent of 2 ounces of high quality protein. And if we're honest, you'll probably eat about two servings of this dessert for a total of 24 grams of protein.
What type of cottage cheese is best to make ice cream?
You can use any type of cottage cheese, however when you go with a lower fat or fat free version, more ice crystals will form and you'll have an icier dessert. I'm all about a creamier texture, so I recommend using a full fat cottage cheese to make it as close to the real thing as possible!
If you want to make this dessert with fat free or low fat cottage cheese, I recommend freezing it for less time. Freeze it for 60-90 minutes until its cold, but not frozen solid. It'll still taste great.
Ingredients to make cottage cheese ice cream.
Creamy base – I recommend using a container of whole milk cottage cheese for the creamiest dessert.
Sweetener – You can use anything from maple syrup and raw honey to protein powder or monk fruit. Use the sweetener of your choice. I've made it with vanilla stevia and it had great flavor.
Flavoring and mix ins – The original version I saw on social media used fresh strawberries and graham crackers, but you can use anything you'd like! Experiment with other chopped fruit, powdered peanut butter, chocolate chips, or flavorings such as cake batter or coconut.
In the version below, I added banana because it freezes well, adds a slight sweetness and lightens up the texture.
Jump to Recipe
Flavor combinations to try
vanilla extract, maple syrup and crushed walnuts
rum extract, fresh diced pineapple and coconut flakes
cocoa powder, almonds and mini chocolate chips
peanut butter and sliced banana
mint extract and dark chocolate shavings
cake batter extract and sprinkles
crushed graham crackers with diced strawberries
blueberries and lemon zest
raspberries and white chocolate chips
banana and vanilla stevia
You an also use it as a base of a protein bowl, instead of your favorite smoothie, making this a great alternative for breakfast, or an afternoon snack.
If you're thinking about adding collagen or protein powder for an added protein boost, save it for another time. Cottage cheese is already such a good source of protein, that unless you have very high protein needs, it's unnecessary. Learn more about macros and importance of protein here.
Equipment needed for cottage cheese ice cream.
In order to make this dessert you need something to whip your cottage cheese. You can achieve a creamy texture with anything from a high-powered blender, a food processor, even a hand-held immersion blender.
After that you just need a few basics like a container mix everything together in, and another to freeze in!
Also, it's worth mentioning that you don't need an ice cream maker to try this recipe. If you have one, you could use it to churn your cottage cheese mixture, but it will come out just as well if you put it in the freezer for 60-90 minutes.
How long do you freeze cottage cheese ice cream?
After blending your cottage cheese in a food processor, blender or immersion blender, add your flavorings of choice. You can then freeze a few different ways.
Place it back into the original cottage cheese container and freeze for 60-90 minutes until chilled all the way through. The center will likely be soft and creamy.
Put into a loaf pan for 60-90 minutes s it can freeze faster. Use an ice cream scoop to serve.
You can also spread onto a 1/4 sheet pan and cover with plastic wrap to give it even more surface area to freeze at a faster rate.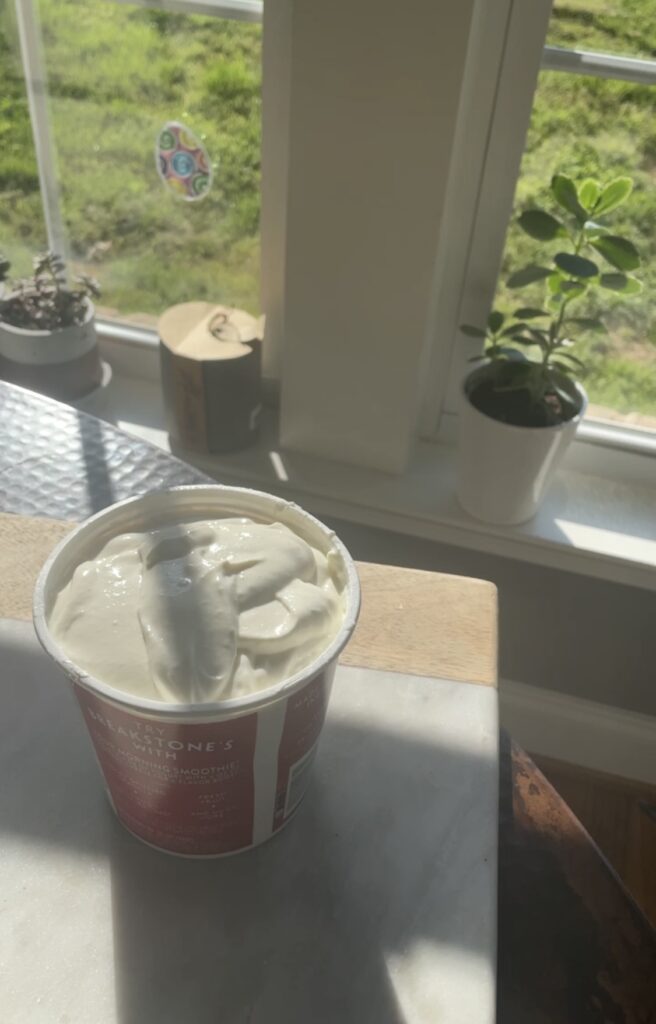 Whatever you do – do not let it freeze over night! It will form ice crystals and be very difficult to scoop. After testing several times, I noticed that the ice crystals formed regardless of the fat content. So, my best advice is to freeze for less time, or enjoy as a cold pudding.
Whatever you do – do not let it freeze over night! It will form ice crystals and be very difficult to scoop. After testing several times, I noticed the ice crystals form regardless of the fat content. So, my best advice is to freeze for less time, or enjoy as a cold pudding.
What is a serving of cottage cheese ice cream?
I saw a lot of people on social media making this dessert with 16 ounces (four servings), or two cups of cottage cheese – and it appeared that they were eating the entire batch in one sitting. I would recommend a 1/2 cup serving, just like regular ice cream to limit sodium and saturated fat.
As I mentioned earlier, one serving of 2% cottage cheese is ½ cup or 4 ounces and contains 90 calories, 12 grams of protein, 3 grams of fat, and 350 milligrams of sodium. If you ate the whole container, you'd have 360 calories, 48 grams of protein and 1400 mg of sodium. It's recommended to keep sodium intake at or below 2000 mg daily to follow a heart healthy diet. So you can see how sodium added up quickly when the portion size increased.
Keep in mind that if you choose a higher fat content cottage cheese, you will have more total calories and fat.
Your toppings of choice will add to your calorie, fat and sodium intake too so stay mindful when making this healthy ice cream at home.
It's all about what you're in the mood for, what fits into your health goals and how you're going to feel afterwards!
What if I eat too much protein?
When someone consumes more protein than their body needs, the excess is stored as fat. I recommend aiming for 20-30 grams or 3-4 ounces of protein per meal to stay satisfied and full. Which makes a 1/2 cup portion of cottage cheese ice cream a healthy alternative when toppings and add ons are kept in check!
Why should I try cottage cheese ice cream?
It's an excellent food choice if you are trying to build muscle or maintain a healthy weight. In fact, a single serving of cottage cheese can provide nearly 2 ounces of protein, which is beneficial for promoting muscle growth and repair.
Now that cottage cheese has made it's modern comeback, will you try it? Let me know!
If you are looking for other homemade ice cream recipes, you have to try nice cream. It's another 2 ingredient wonder!
Nutrition Information
Calories: 164 per 1/2 cup serving
Fat: 5g
Saturated fat: 3g
Carbohydrates: 20g
Protein: 11g
Fiber: 1g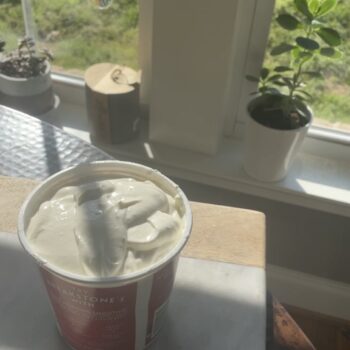 Cottage Cheese Ice Cream
Protein rich ice cream alternative
Equipment
1 food processor

immersion blender will work too
Ingredients
16

oz

full fat cottage cheese

1

each

banana

2

tbsp

maple syrup

5

drops

vanilla stevia
Instructions
Blend everything in a food processor until smooth.

Return to cottage cheese container and freeze for 60-90 minutes